How to Take Notes on a PDF on Windows/Mac/iPhone

Vanessa Chiang updated on Apr 29, 2021 to PDF Editor Tutorials
Sometimes you may get important PDF files from your teachers or colleagues. When you are reading those documents, your ideas and inspiration for the content will emerge. It's convenient to take them down on paper, but in this digitalized time, you need to know how to take notes on a PDF on various digital devices, including Windows PC, Macbook, and iPhone.
Many methods are available, and you can add notes to a PDF using the browser or convert a PowerPoint slide with notes into a PDF. If you are using mobile devices, some PDF reader and editor applications can be helpful. This post will show you the best 3 ways of taking notes on PDF. Continue reading to know the details.
How to Take Notes on a PDF on Windows  
Many methods can help you effectively take note on PDF files, and there are many kinds of tools that can help, ranging from PDF editors to Internet browsers. This part will walk you through how to do that with those two types of tools.
How to Make Notes on a PDF with EaseUS PDF Editor
EaseUS PDF Editor is a user-friendly PDF editor for Windows which is accessible to all levels of users. This software enables you to manage the PDF pages and edit the contents with simple operations.
As to adding notes on PDF, it offers you some practical tools. If you want to write down your ideas, it's possible to add a note box and type your comments in it. When there are some important words on the PDF file, you can highlight them or add an underline to emphasize them. It also allows you to use arrows, lines and shapes to annotate your PDF.
This tool is convenient for those who need to add text to PDF. And you can click on the following button to download it for free now.
There is a tutorial on annotating a PDF step by step, and you can follow it to take notes on your PDF.
Step 1. Launch EaseUS PDF Editor and click on the "Open Files..." button to import the PDF file to which you want to add the comments.
Step 2. Click on the "Comment" button, and then you can choose to add a comment to the PDF by clicking the notepad icon under the "Annotations" tab.
Step 3. Click where you want to put the notepad, then you can take a note on the PDF file by typing in your comments in the textbox. If you want to hide the note box, you can click the close button in the top right corner.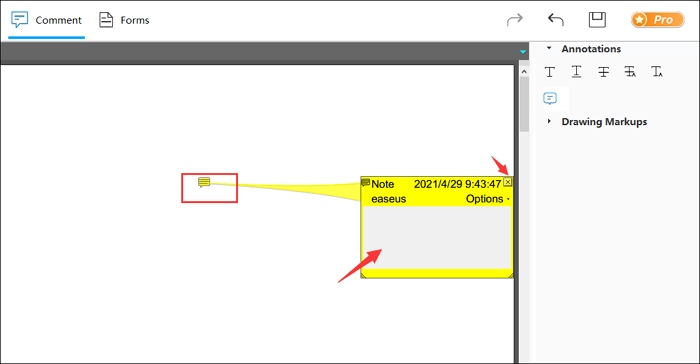 Step 4. Now, you can click on the "File" button and select "Save" or "Save As" to obtain the PDF with your annotations.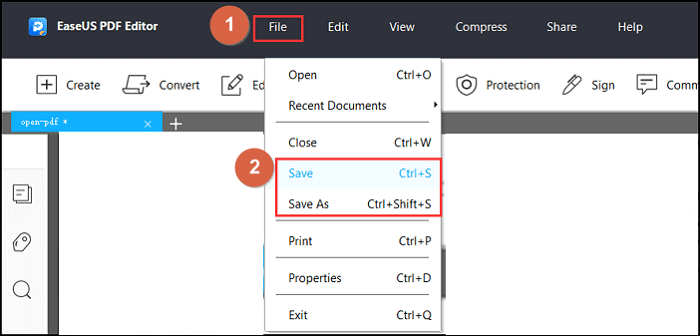 How to Take Notes on PDF on Windows PC with Microsoft Edge
In addition to the PDF editor, there is a built-in browser that can be helpful.
The new version of Microsoft Edge comes with a lot of new features. Among them, the most demanded one is adding text and comments into PDF files. The new Microsoft Edge offers you an editing mode to draw lines or highlight some essential words on PDF files with only a few clicks.
Now, we will show you the detailed steps to use this built-in browser to take a note.
Step 1. Right-click on the PDF file to which you want to add notes, and choose to open it in Microsoft Edge. Generally speaking, it's a pre-installed program on your Windows PC. If you don't have this software, you can download it from the official website of Microsoft.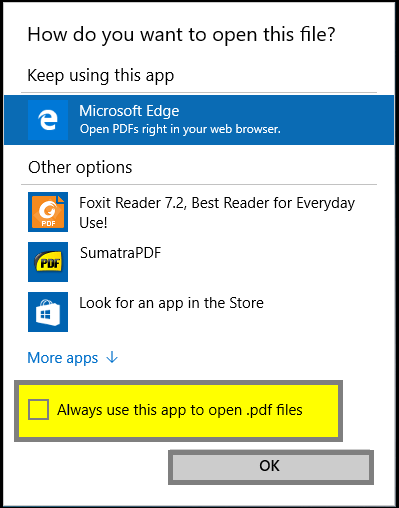 Step 2. After you open the PDF file in Microsoft Edge, you can find an icon that looks like a pen in the upper right corner. Click on it to activate the editing mode that supports taking notes on a PDF.

Step 3. Now, you can see some tools on the screen. You can use the first tool to write or draw freely, and the second one allows you to highlight the text. If you want to remove the notes you added, the third tool can help you.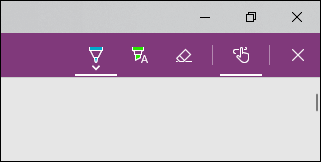 Step 4. If you want to save those notes, click on the "Save" button to do that. You can even rotate the PDF to adjust its orientation and print it out with the notes you added.

How to Save PowerPoint as PDF with Notes on Mac 
In addition to taking notes by directly writing the text on PDF files, there are some other ways for you to add annotations. For example, if you create PowerPoint slides and write some notes on them, you can use the built-in converting tool to turn the slides into a PDF file with notes.
You can use the standard options in Microsoft PowerPoint to adjust the settings of your PDF. For instance, you can customize the paper size and select the slide range that you plan to save as a PDF.
How to Convert Slides into PDF on Mac:
Step 1. First of all, you need to open the slides you want to convert in Microsoft PowerPoint. Then, click on the"File" button and choose the "Print" option.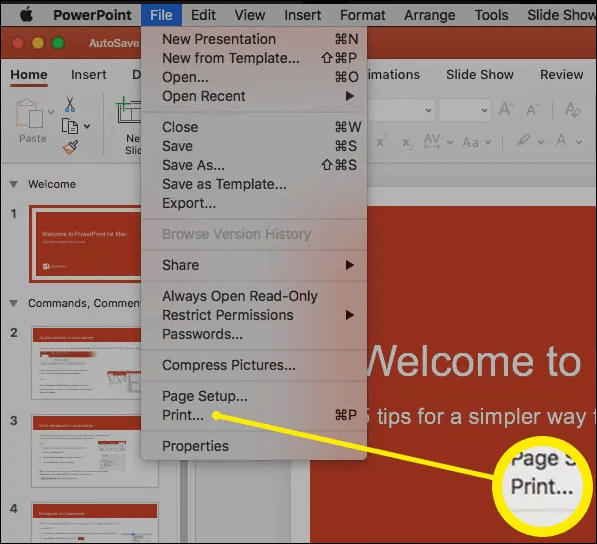 Step 2. You can see the default option in the "Layout" section is "Slides". You can click on it and choose another option from the drop-down menu.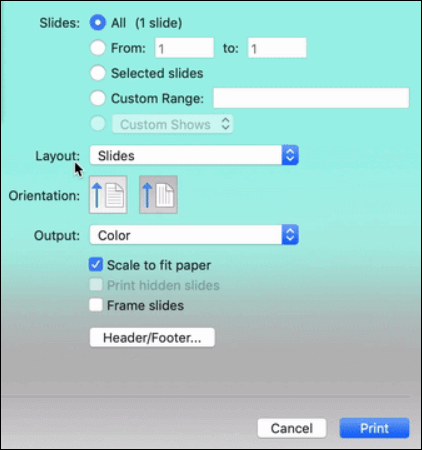 Step 3. Select "Note" from the drop-down menu. Then, you will see the notes you wrote under the slide.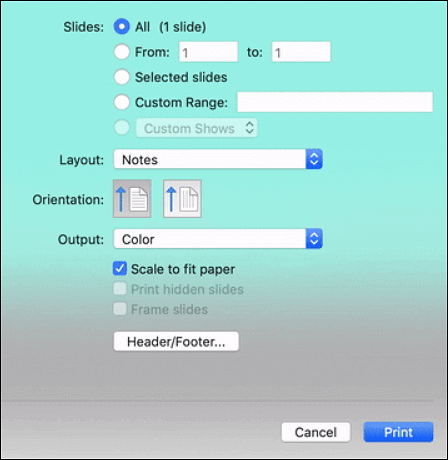 Step 4. On the bottom right, you can see some options. Choose "Save as PDF" from them, and click "Save".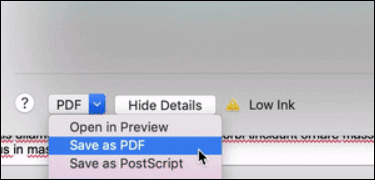 How to Make Notes on a PDF on iPad Using OneNote 
If you want to add annotations to a PDF on iPad with OneNote, the first problem you may have is how to import PDF into OneNote. If someone sent you a PDF via Email, you need to download it and save it on your iPad. Then, you can preview it using a built-in or third-party PDF reader.
While the reader usually doesn't offer you editing tools, you can use the "Open In" function to import the PDF file into OneNote. This cross-platform application now allows iOS users to add notes and comments to PDF so that you can easily record your thoughts by taking a note on the PDF.
How to Open PDF in OneNote and Take Notes:
Step 1. First, you need to open the PDF document to which you want to make notes. For instance, you can open it with Google Reader or any other application supporting PDF format. Click on the "Share" button and select the "Open In" option.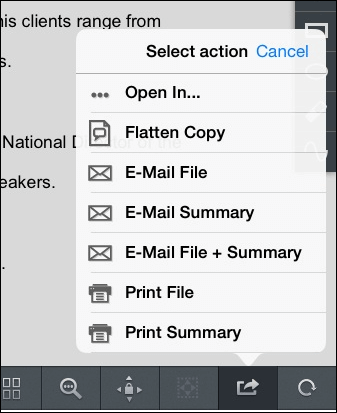 Step 2. The applications you installed on your iPad will appear. Click on the option "Open in OneNote".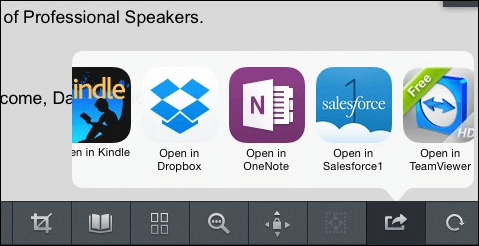 Step 3. Then, OneNote will ask that you want to insert the file to which notebook and which tab.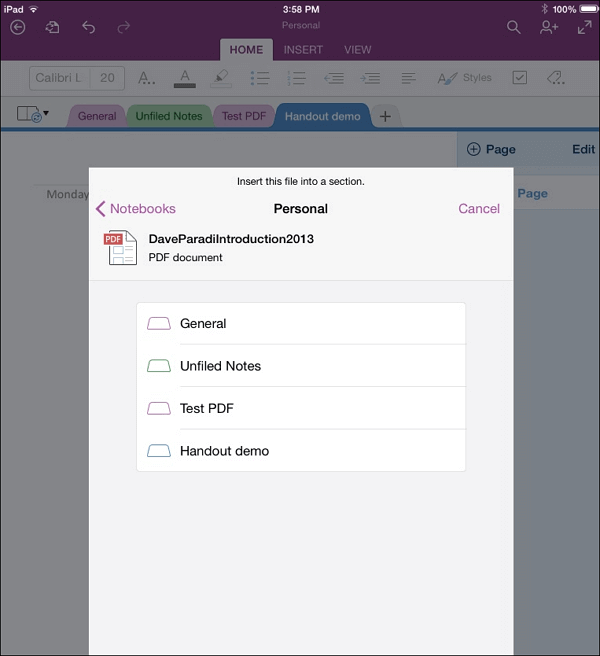 Step 4. Now, you can take notes and add comments on the PDF file.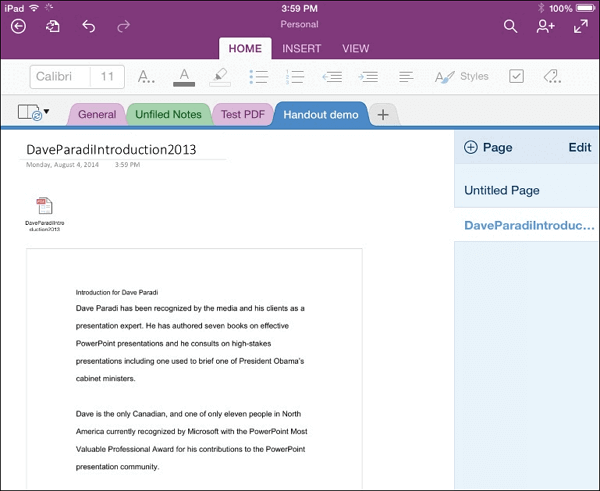 Conclusion
In this post, we walk you through 4 different ways to get a PDF with notes on various operating systems. Whether you are using a Windows PC, a Macbook, or an iPad, you can find the best tutorial about how to make notes on a PDF. 
And the tools we mentioned in this post are easy to use. They can solve the problem of how to write notes on PDF and offer you many other tools to manage your PDF files. But if you need an all-in-one tool, we recommend EaseUS PDF Editor as the most appropriate one.