Top 8 Best Mac PDF Editor in 2021

Jane Zhou updated on May 31, 2021 to PDF Editor Tutorials
There are surplus collections of PDFs editor tools available for the Mac system in the digital environment. If you happen to look for a free Mac PDF editor, the below content will assist you in choosing the best ones quickly. Now surf on the quick synopsis on the top 8 best PDF editor tools for the macOS platform. 
Part 1. Top 8 Best PDF Editing Software for Mac
In this section, observe insightful data on performable PDF editor tools for the Mac systems. The information is available in an easily readable format for better understanding to the readers. 
1. Adobe Acrobat DC
Adobe Acrobat is an incredible tool from the giant software manufacturer Adobe. The free version helps the users to perform basic operations on the PDFs. You can merge PDF files as a single document to enhance readability. Besides, this PDF editor makes precise changes on the PDF like file conversion, apply passwords, split files, and print PDFs.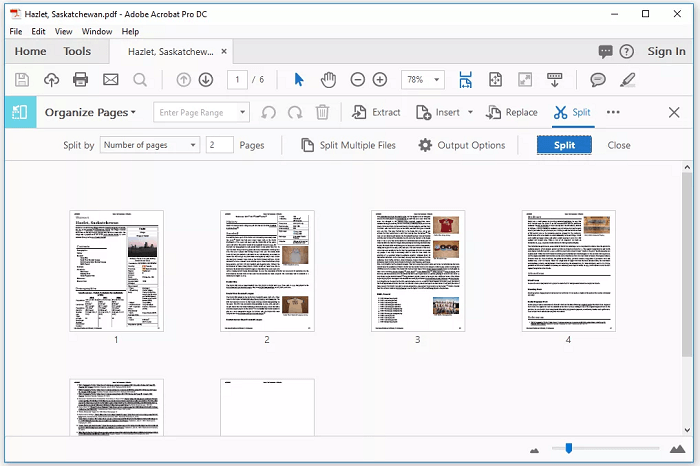 Pros: 
This tool merges multiple PDFs
You can annotate the file and export them quickly
It helps you to protect the PDFs using the password
Cons: 
If you want to access all the features, you must purchase the subscription scheme
Compatibility: Windows, Mac, iOS, Android 
2. PDF Expert
As its name states, it is an expert to handle and manage PDFs. You can perform constructive activities on PDF files. This app is a robust program that assists in PDF edits, including a sign for documents, modifies the texts and images on the PDFs.
What's more, this program is a flexible program that allows you to merge, split, fill and export the annotations flawlessly. You can create a PDF with desired texts, images, and shapes to meet your needs.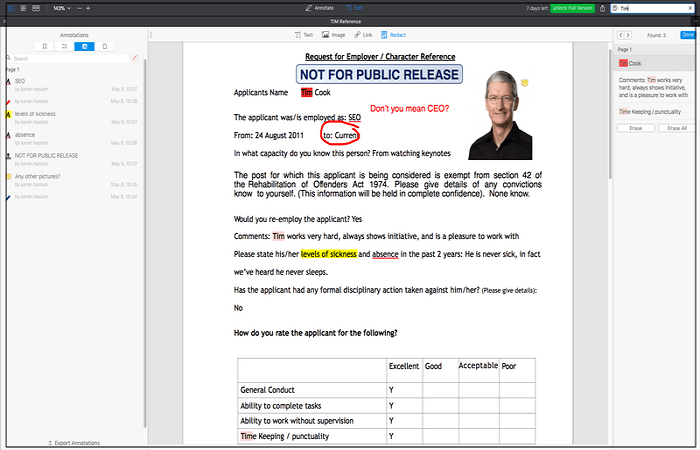 Pros:
The simple user interface aids beginners in working comfortably without any special skills
It has handy controls to establish the desired tasks
Personalize the PDFs depending on your requirement
Cons:
It has fewer functionalities
Compatibility: Windows, Mac, iOS, Android
3. PDF Nomad
PDF Nomad is the smooth editing tool that converts any file format to PDFs. It works well on the Mac systems and helps you to handle the PDFs efficiently. With an organized user interface, users can reach out for the desired controls with ease. In addition, the in-built toolbox aids in the professional edits, which makes it easy to view, edit, share the PDFs in no time.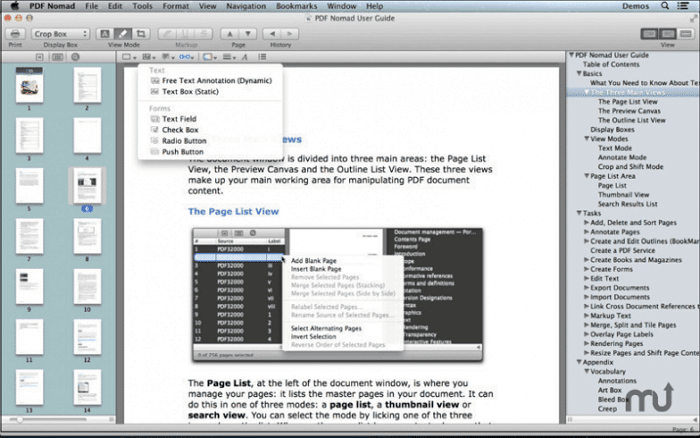 Pros:
It has a simple user interface
This app helps to resize the document for ease of transfer
Include texts and images on the PDFs
Cons:
Has fewer additional features when compared to other PDF editors
Compatibility: Mac
4. Skim
Skim is a simple PDF editor that works like a Preview tool. You can use Skim to annotate, highlight PDF, crop, resize, and insert notes on your PDF documents. After the editing, you can share your works for further process. All the changes in the PDFs are saved without any data loss using Skim.
Last but not least, Skim embeds the transition effects on the PDFs to assist during meetings and discussions.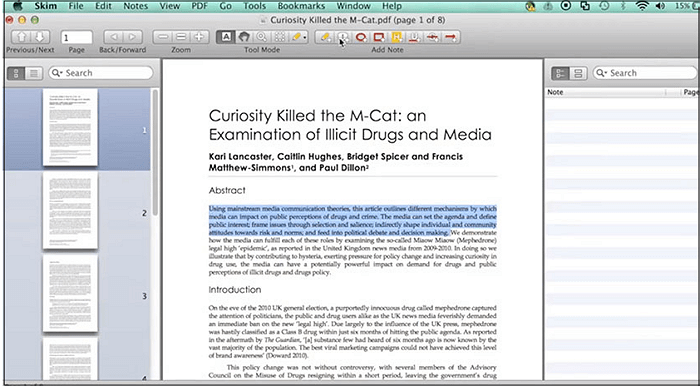 Pros:
View, edit and share the PDFs flawlessly on this platform
It has a built-in transition to assist in presentations
Cons:
It has fewer features and not sufficient to fulfill the needs
Compatibility: Mac, Windows 
5. Preview 
It is a default program on Mac to perform optimal editing on PDFs, and you can find only the basic features in this program to work with PDFs. 
With its help, you can edit, sign, annotate the PDFs using the embedded features. Moreover, this app enables you to insert text images and password protect your PDFs for privacy reasons effortlessly.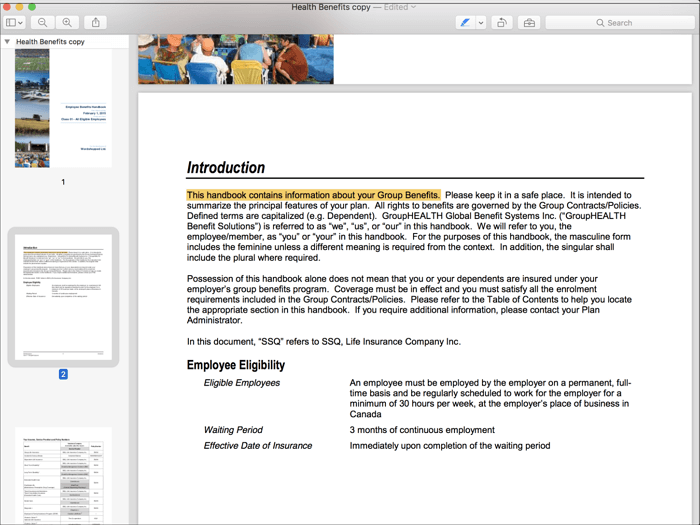 Pros:
You can view the PDFs and add notes to them
Protect the PDFs using passwords
Compress PDFs for easy sharing 
Cons:
Limited features due to its default availability
Compatibility: Mac
6. Master PDF Editor 
It is an easy-to-use application and performs the perfect edits on PDFs. You can modify the texts, create objects, and work with fillable PDF forms by using this software.
Also, with the help of Master PDF Editor, you can convert any file to PDFs and vice versa at a faster rate or protect PDFs from anonymous access using the high-end encryption technique.
Pros:
It allows you to encrypt the PDF files
Merge multiple PDFs as a single file
Cons:
It exhibits operational issues while handling large-sized PDFs
Compatibility: Windows, Mac, Linux
7. Abbyy FineReader 
Abbyy FineReader assists you in accomplishing accurate edits on the PDFs. It eases your daily tasks in handling PDFs for official purposes. This app serves as the finest reader tool for PDFs and comprises incredible editing options.
This tool allows you to perform multiple operations on the PDFs and re-define the view of PDFs as per your requirements. It retains the document structure and layout despite the edits.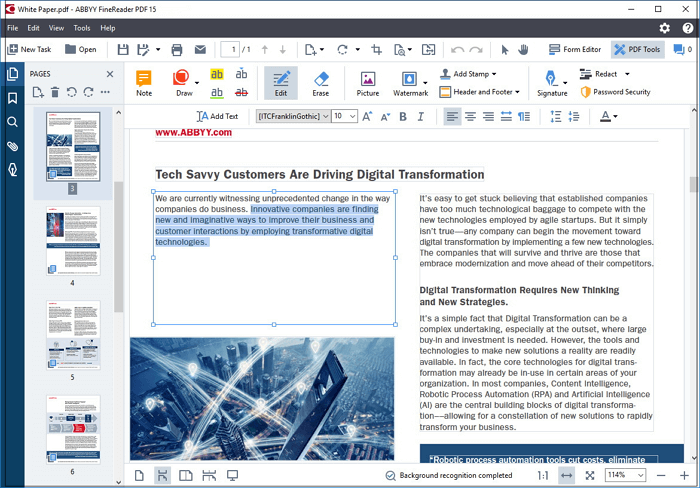 Pros:
View, edit and merge PDFs 
Split the PDFs into multiple pieces for better management
Search, replace the texts in PDFs quickly
Cons:
The changes reflect on PDFs with delay
Compatibility: Windows, Mac, iOS, Android 
8. PDF pen pro 
PDFpen Pro is an interactive platform to make corrections, insert objects, include sign-on PDFs. This app allows you to optimize PDFs by customizing them with stylish fonts, colors, and sizes.
To create interactive PDFs, you can add header and footer to PDF and watermarks on PDFs using this program. What's more, you also can add more data to PDFs by inserting hyperlinks and bookmarks for reference purposes.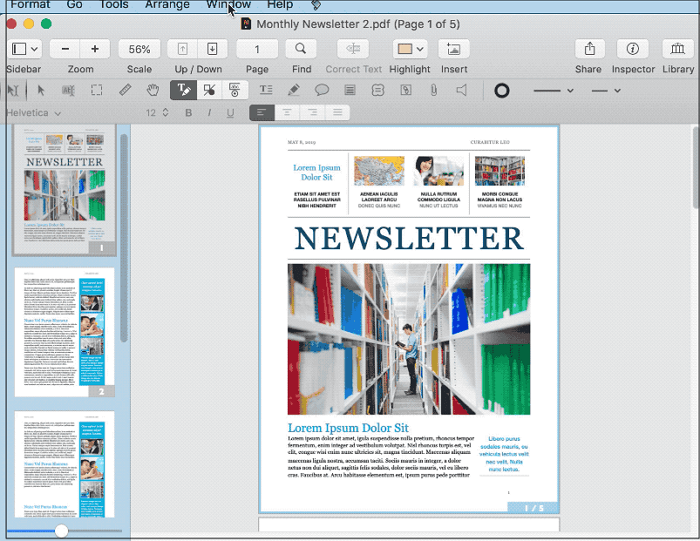 Pros:
You can create fillable forms
Work with the cloud storage to manage the PDFs
Cons:
The free trial has limited features 
Compatibility: Mac
Part 2. Best PDF Editor for Windows
If you are looking for the perfect PDF editor for the Windows platform, then EaseUS PDF Editor is the right choice. A typical editor works precisely on PDFs without any compromises. It offers a complete solution to PDF as a reader, creator, converter, editor. This Windows PDF editor accompanies you appropriately when you want to establish a control on the PDFs. 
EaseUS PDF Editor
Reduce PDF size for sharing large-sized ones
Add the essential watermark on PDFs
Protect the PDFs with passwords and encryption techniques
Share the edited PDFs with your teammates 
Conclusion 
Thus, you had an enlightening trip on the free PDF editor Mac. Choose the perfect one that fits your needs. And we hope you can get help from this post.