Top 8 Free Adobe Acrobat Alternatives for PDFs

Jane Zhou updated on May 06, 2021 to PDF Editor Tutorials
Whenever it comes to editing PDFs, Adobe Acrobat is the first-stop solution for many users. Due to its unique features and excellent services, Adobe Acrobat has been around for years. However, most of the users are often discouraged by its high prices. So, if you are the one who is in need of a PDF editor but finding Adobe Acrobat an expensive option, then we have got you covered with a handful of free Adobe Acrobat alternatives that will deliver you the same excellence whenever you will get your hands onto them!
This guide will walk you through the 8 best PDF editing software! Get an insight into the detailed information about each of them and make a correct decision based on your needs and requirements.
1. EaseUS PDF Editor
Supported OS:  Windows 10/8.1/8/7
The foremost PDF Editor in the list that can excellently replace Adobe Acrobat is EaseUS PDF Editor. It is an all-in-one solution that allows users to make, read, edit and convert PDF files flawlessly.
With this tool, you can easily edit, OCR, merge, create, sign, annotate and split PDF files in just a couple of minutes. No matter which device you are using, the original fonts, pictures, and layout of the document will look the same everywhere. With unique features, you can customize PDFs painlessly.
Pros:
100% secure
Support for various file formats
Free customer support service
Cons:
Now click the below button to get this excellent alternative for Adobe Acrobat.
2. Smallpdf
Supported OS: Windows, Mac, Android and iOS
Smallpdf is another alternative for Adobe Acrobat that allows you to edit PDFs in just a few simple steps. With Smallpdf's PDF tool, you will get a user-friendly and straightforward interface that will let you add image to PDF files easily.
Along with a free PDF editor tool, Smallpdf contains many other PDF tools that can help you convert PDFs into other formats quickly. Apart from all this, the best thing about Smallpdf is that it offers both a cloud-based solution and desktop software to edit PDFs as you want.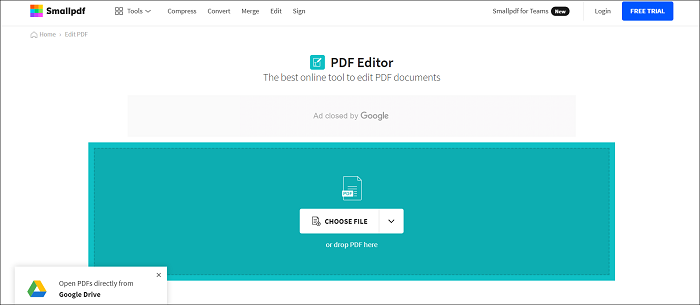 Pros:
Excellent range of helpful PDF tools
It is a cloud-based as well as a desktop tool
Cons:
The free version of this tool comes with a limited time offer
3. PDF X-Change Editor
Supported OS: Windows
PDF X-Change Editor is a free Windows PDF editor. Talking about the interface, it is pretty complex than that of the other PDF editors in the list. The main thing that has made PDF X-Change Editor one of the top 8 free Adobe alternatives is that it comes with Optical Character Recognition feature, which means that if your original PDF file is a photocopy, then this tool will still be able to recognize the text included in it and will allow you to edit it.
In addition to this, you can even reformat text and convert it into fonts that are not already loaded on your computer. 

Pros:
Supports Optical Character Recognition
Allows users to edit the text
Splits and extracts pages
Cons:
It adds a watermark on the documents edited through it
4. PDFescape
Supported OS: Windows 10/8/7
PDFescape allows the users to edit the PDF files online or through a desktop application. If we talk about the desktop application, it is influential because it supports editing to the pre-existing PDF content. Moreover, it allows the users to scan the paper documents. But one crucial thing to note here is that only the online version of this tool is free to use.
With PDFescape, you will get a handful of PDF editing options like the ability to make freehand notes, tools to add clickable URL links to your document, and much more.

Pros:
It allows easy merging of the documents
No account creation is necessary to edit the PDFs
Cons:
It involves a file size limit 
The desktop editor is a paid version
5. Sejda PDF Editor
Supported OS: Windows, Linux and Mac
Another option is Sejda. It is a free PDF editor that offers excellent PDF editing results along with top-notch features. It is an entirely full-feature-fledged PDF editing tool that can give a tough competition to Adobe Acrobat.
Sejda PDF Editor allows the users to edit the PDF files easily in just a few minutes. In addition to editing the PDFs, you can also add signatures on the PDF files, add links and comments on PDFs, and create fill-able PDF forms in just a few simple steps.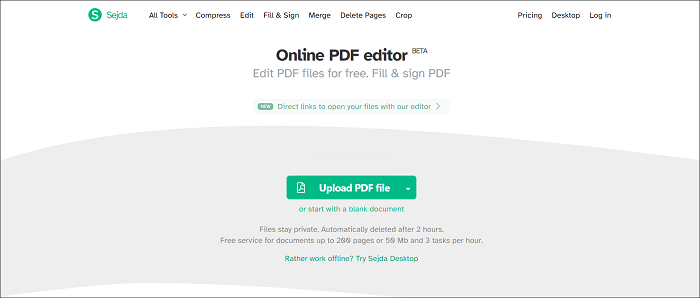 Pros:
Easy to use interface
No account required
Involves excellent and unique PDF editing features
Cons:
Premium version is expensive
File size limitations.
6. PDFSam Basic
Supported OS: Windows, Linux, and Mac
If you are hunting for the Adobe Acrobat alternative free that can edit PDF files in a simple and easy way, then PDFSam Basic is the perfect option for you!
PDFSam Basic is a lightweight and easy-to-use desktop application that is well worth keeping downloaded for all the situations that require quick PDF editing. Unlike the other PDF tools mentioned in the list, PDFSam Basic won't let you modify the actual content of the PDF files, but it will make dividing and combining them an easy task. With PDFSam Basic, you can always be stress-free because it involves no watermarks to worry about.
Pros:
No need to upload files
Simple and easy to use
Involves no ads in between
Cons:
It involves a limited feature set
7. PDF Buddy
Supported OS: Windows and Mac
PDF Buddy is another free Adobe Acrobat alternative that can help you edit PDF files in just a couple of minutes. It is free to use PDF editing tool that allows you to edit the PDF files without requiring any installation or download. Yes, you read it correctly! You don't need to install or download PDF on your PC because it is also a cloud-based platform that can be used just by visiting its official website.
With PDF Buddy, you will get all the necessary features that are a must to have in a PDF editing tool. This free PDF editor works on all Windows systems like XP, 7, 8, and 10.
Pros:
Uploading and editing files are easy
All the instructions are easy to understand, and tasks can be completed quickly
Signing up takes few minutes
Cons:
Involve limited features
Privacy and security are a concern because all the editing is done over the internet
8. AbleWorld PDF Editor
Supported OS: Windows 10/8/7/XP
Last but not least, the final option in our list is AbleWorld PDF Editor. AbleWorld PDF Editor is not a very well-known software, but it works flawlessly when it comes to editing PDFs on your PC.
In addition to a PDF Editor, it is also a word processor that helps you edit the files easily and quickly as you would do with a word document. This PDF Editing tool supports reformat images, adds and edits headers and footers, and performs several other essential functions. Apart from all this, AbleWorld PDF Editor also involves spell check and other similar functions.

Pros:
It is easy and straightforward to use
It excellently supports some of the top Microsoft Word features
Cons:
It involves limited features
The output generated is not as perfect as some of the other PDF editing tools
Conclusion 
From EaseUS PDF Editor to AbleWorld PDF Editor, all the top 8 Adobe Acrobat alternative free mentioned above will definitely prove to be a great choice for editing the PDF files affordably! Each of the above-mentioned tools has its relative pros and cons, so you can compare each of the tools based on all the aspects. This, in turn, will help you choose the one that perfectly fits all your needs.