How to Fill Out a PDF Form in Minutes

Jane Zhou updated on May 26, 2021 to PDF Editor Tutorials
PDFs are daily used in business and personal life to record information that should be kept as permanent records.
Interactive fillable PDF forms have fields to put your text. But not all PDF forms are easy to fill out. Non-interactive flatten PDF forms are designed to be filled with pen and pencil, only by hand, or with signature tools.
Filling out and submitting PDF forms for job applications, student aid, tax returns, and the like is often a time-consuming and frustrating experience. You spend hours cutting and pasting information, trying to get everything in the right boxes. When you finally finish, you find you've made a silly mistake because the print is too small or because the software you used didn't let you fill out PDF forms immediately. Luckily, there's a better way.
This guide will teach you how to properly fill out PDF forms with PDF tools for Windows, Mac, and online.
How to Fill Out PDF Forms on Windows
Without a complete tool, filling out PDF forms can be a living nightmare. Some documents are poorly formatted. The fields are often unaligned, the text not editable, and the information is missing fields or out of order, or any number of other problems.
It happens because the creator didn't have converted the file to a fillable PDF, or the document was stored as an image PDF instead of an editable word file.
EaseUS PDF Editor lets you deal with any PDF form. It is a powerful yet easy-to-use PDF toolkit for editing, modifying, combining, splitting, encrypting, annotating, signing, watermarking, scanning, and creating PDF files.
Key Features:
You can fill out flat PDF forms in minutes with the PDF editing software. Just download it and check the following tutorial.
Step 1. Open the program, you will select the file you need to edit. Navigate to the file folder, then just hit the "open" button.
Step 2. Click on Edit in the toolbar. It opens the Edit Content column with functions to customize your text.
On the Format section, select the Font type, size, color, and more. Click on Add Text, then click on the PDF field, with the mouse in the position you'd like to fill with the information. Then write the text you want to fill out in the PDF form camp.
Step 3. Putting your signature. To sign it, Click on Sign > Sign & Certificates > Sign a Document. A window will ask you to create a new rectangle for your signature, clicking and dragging in the PDF field.
Step 4. Select the desired position to sign, then click-and-drag the mouse to draw a rectangle. Or just click in the camp if the PDF form is interactive. After that, it will offer all you need for professional signatures, like your ID, password, location, and reason to sign.
Step 5. Done! Save your PDF. On File, click in Save as, rename it if you want, then select the folder.
How to Fill Out a PDF Form on Mac
Preview is a free PDF viewer, included with OS X operating systems. Officially supported by Apple, developers guaranteed it is one of the fastest editors you can have on Mac. Use to open, view, and print Adobe PDF documents, including digital magazine issues, brochures, forms, and textbooks.
In addition, Preview lets you fill out PDF forms with your computer, thus saving you the time and aggravation of printing the forms out, filling them out by hand, and then scanning them back in.
Below, we will see how to fill out a PDF form in easy few steps.
Step 1. Select the file. In the Preview app, open the PDF form you need to fill.
Step 2. Create the text. To create a text with the desired information in Preview, Click a field in the form, then type your text with the size, text, font, color, and position you like. Repeat the process.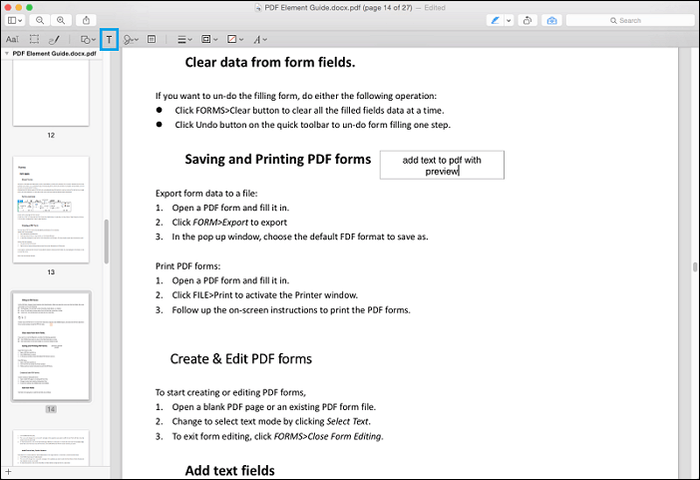 Step 3. Save the form with File > Save or Export, then the PDF format. Chose the desired name and folder.
How to Fill Out PDF Forms Online
DocFly provides you some powerful PDF editing tools on-screen, without the need for desktop software. You can fill PDF forms directly in your favorite browser, save the file on any computer, then print it out.
If you are dealing with PDFs from different computers for work, school, government, or other professional responsibilities, DocFly is essential for getting it done quickly. The site offers a cloud-based alternative, always up to date in the last version, letting you access files in your home, office, or anywhere else.
Notice: Free services are limited to editing 3 PDF monthly. Each file you export and save spends 1 credit. 
Check now how to fill out a PDF form online with Docfly.
Step 1. . Click Upload to select a file from your PC, or drop it on the dropzone. Alternatively, you can upload files from Dropbox and Google Drive.
Step 2. Fill out your PDF form. After uploading your file, the site will redirect to the online PDF filler app.
Step 3. Click Save. Then Click the button Export, shown on the right side, near the Save button you have clicked.
Step 4. Download the file, saving it in your preferred folder. DocFly reminds the amount of credit you still have.
The Bottom Line
There are ways to fill out PDF forms for free, but they don't let you do much more than that. Also, they are limited per month use. Interactive PDF forms are easy to fill, but working with flat PDF forms demands professional tools.
EaseUS PDF Editor gives you full control over PDF files in a fast and easy way. Whether you are writing a resume, filling out a survey, or signing a document, it will help. Now just click the below button to get it.