How to Edit a Read Only PDF Easily

Vanessa Chiang updated on May 28, 2021 to PDF Editor Tutorials
PDF is widely used, and it's the best format to view and share documents. But, the PDF's un-editable feature might be a hindrance if you need to revise or edit a file. With the read-only label, a user wouldn't perform any desired operation like printing or copying. And for these reasons, many users are looking for a seamless approach to editing a read-only PDF file. 
How to edit a read only PDF? This post will offer you the best solutions for editing read-only PDFs with simple clicks, and you'll be able to explore the prime software for editing read-only PDFs.
How to Edit a Read Only PDF with EaseUS PDF Editor
If you want to use legit software that won't harm your files, EaseUS PDF Editor is the best choice. This is a reliable software that can help you edit PDF files without any hassle, and even those files are read-only.
You can import a PDF file to the program to remove the restriction and edit it like editing a normal PDF. The program allows you to edit read only PDF as per your requirements with the "Remove Security" feature. It also supports encrypting a document with a password to add security to PDF files.
You can edit both the PDF contents and PDF pages like a breeze. This PDF editing software enables you to insert images and text into PDF and remove them from PDF. In addition to that, you can rotate, crop, and reorder the PDF pages freely. If you want to find a specific page easily, it's possible to add page numbers and create bookmarks in PDF.
Key Features:
Add passwords to protect the PDFs
Compress, rotate, or split PDF
Convert PDF into other formats, like JPG, PNG, or DOC
This all-in-one software is for those who don't want to download many programs to remove the PDF restriction and edit the PDF. If you want to get it, you can click on the button below.
Steps to Edit a Read Only PDF:
Step 1. Launch EaseUS PDF Editor on your PC. You'll see various options on the screen. Click on the "Open Files" option to import the read-only PDF file you wish to edit.
Step 2. For protected files, you need to enter a password. After entering the password, click on the "Protection" option and choose "Remove Security" from the right-hand menu. Then you can edit the document as you like by clicking on "Edit" from the toolbar.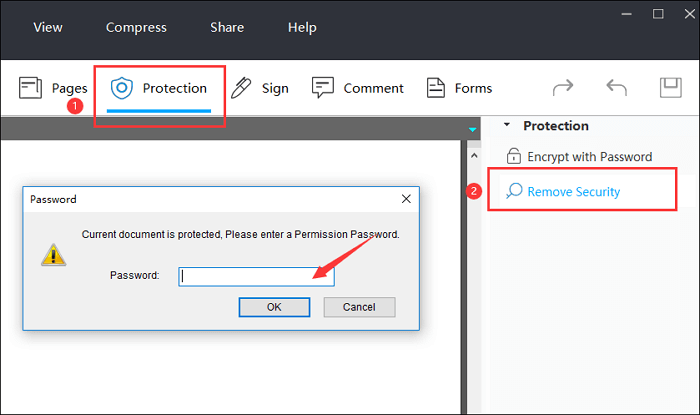 Step 3. If the file is not secure with a password, you can directly click on the "Edit" button. By clicking on "Edit", you can access features like adding text and images to the file. The "Format" tab options are for customizing the font's color, style, and size. 
Then, you can click on the "Page" button to find other editing tools. You can extract, replace, and crop the pages with ease. It's also possible to merge multiple PDFs into one and add a background or watermark to it.
Step 4. Click on the "Save" button in the upper right corner to preserve the changes you made to the PDF. Or you can click on "File" > "Save" or "Save As".
How to Edit a Read Only PDF with Adobe Acrobat?
If you want to go for secure software that helps you edit read-only PDF without losing data, then Adobe Acrobat is the best. It's authentic software that allows you to access and edit PDF files.
The software provides many options to convert read-only PDF files into editable ones. The only limitation of the software that it's a paid solution and quite expensive for some users.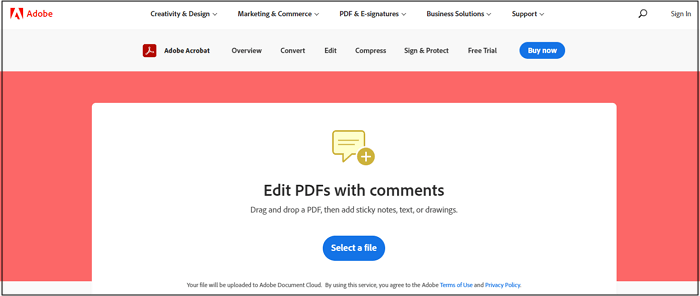 Features:
Edit text and images in PDF files
Convert PDF to different formats, including Excel, Word, and JPG
Combine and rearrange your PDFs
Below are the detailed steps you can use to edit a PDF file.
Step 1. Open the Adobe Acrobat program on your computer. Upload the required read-only PDF file for editing.
Step 2. You can edit the PDF files with text and images. For the protected files, if you have access to the file's password, select "Tools" > "Protect" > "Encrypt" > "Remove Security" and edit.
Step 3. For saving your file, click on "File" > "Save As" and choose PDF from the drop-down menu and click "Save".
How to Edit a Read Only PDF with Online Tool?
Some of you might have an unhappy experience in editing read only PDF files with online tools. But, many excellent online free tools are suitable for the task. Those online editors don't harm PDF files and free from viruses. Many of you might already know about Google Docs, but some may not know that it is the best free online tool for editing read-only PDF files.

Features:
Add different fonts to the PDF files
Create and remove headers
Free online access
Below are the steps to convert read-only PDF files into editable files using Google Docs.
Step 1. Open Google Docs from the browser using your Gmail Account. Choose the "Folder" option present at the bottom right of the screen.
Step 2. After that, you'll see a new window. Choose your desired PDF file by clicking on "Upload" from the folder. You can also drag & drop your files from your device or click on "Select a file from your device."
Step 3. After uploading your secured PDF file, click on the "Open With" button from the top of the window and select "Google Doc." You can edit your PDF file with different options and save it on your PC after editing.
The Bottom Line
Several authentic PDF editors can edit read-only PDF files. Some of them are free but not secure for your files, but the software mentioned above can do the editing without harming your files.
EaseUS PDF Editor is the best one for Windows users as it provides features like security removal, PDF editing, and PDF converting. Moreover, if you work with PDF files frequently, the pro version of this software suits you best. However, for users who need tools for occasional PDF editing, Google Docs is enough.