9 Best Free PDF Printer That Is Worth Trying

Jane Zhou updated on Jun 30, 2021 to PDF Editor Tutorials
The PDF format works flawlessly on any modern computer, tablet, or smartphone. If, in any case, you want to share any document, PDF is the most preferred format to use, thanks to its portability and compatibility! With the availability of a plethora of free PDF printer programs and tools, you can easily print a file as a PDF. All you need to do is choose a file that you want to print to PDF and use the Print option available in the program. The good news is that Adobe Acrobat XI Printer is not the only option available for PDF printing.  
In this article, you'll get to know some of the best free PDF printing software for Windows, Mac, and Smartphones that will make it easy for you to print any document to PDF without any hassle.
Hot Article: How to print secured PDF
When it comes to printing images or documents to PDF on Windows PC, there are lots of free and paid PDF printers for you, and EaseUS PDF Editor is one of them.
This free Windows PDF printer lets you print your image and Microsoft files to PDF with ease. Before printing, you can choose to modify the file with the editing tools, such as add text, remove watermark, add date to PDF, and so on. 
What's more, it is one of the best PDF converter software. Speaking about its converting options, it enables you to change PDF to more than 10+ popular and common file formats without losing quality.
EaseUS PDF Editor
Print secured PDF documents effortlessly
Offer OCR function to make your scanned PDF editable
Provide lots of basic and advanced editing tools
Create a PDF from images and Microsoft Office documents
#2. Adobe Acrobat XI Printer 
One of the best and the most recommended free PDF printer for Windows 7/10 is the Adobe Acrobat XI Printer. This amazing PDF printing solution is continuously proving to be the best go-to solution for most users when it comes to printing to PDF on Windows. Through unique plugins and features, this PDF file printing solution for Windows offers a wide variety of annotation and editing features. Not only this, Adobe Acrobat XI Printer for Windows supports all kinds of PDFs, including encrypted ones.
Pros:
One-stop solution for all PDF needs
Multiple editing and annotation features
Users can edit the PDF in any way they want by using any of the plugins available 
Cons:
The plugin to edit the PDF is not free, and the support for it has ended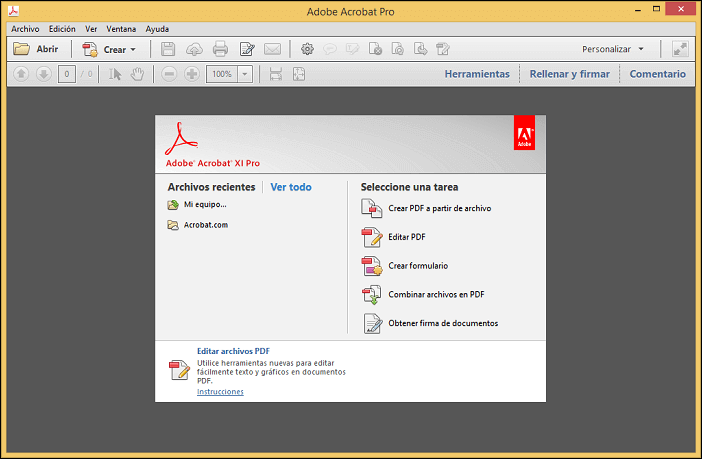 #3. PDF Printer for Windows 7
If you are looking for a PDF printer for Windows 7, this will surely prove to be a great option! To an application, the PDF Printer for Windows 7 looks like a printer that allows the application to write a document as a PDF document in a similar manner it would help print the document to the printer. While using the PDF Printer for Windows 7, whenever a user prints a document to PDF Printer, the software then creates a PDF document rather than sending the file to an inkjet or laser printer.
Pros:
Create Adobe PDF documents easily
Convert emails to Adobe PDF files
Apply passwords and assign permissions
Quickly regenerate a PDF file
Cons:
The user interface is not visually pleasing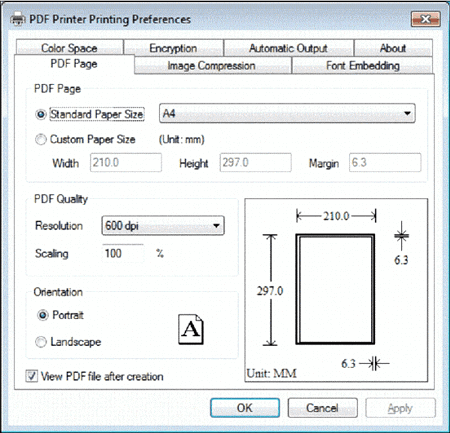 #4. PDF-Xchange Printer
Another free PDF printer for Windows7/10 on the list is PDF-Xchange Printer. This PDF printer for Windows is highly reliable, making it an easy-to-use solution for printing to PDFs. Speaking about the editing features, the editing features are pretty advanced, making it convenient for the users to annotate and edit the documents perfectly before printing. With a lightweight PDF software program and advanced features, the PDF-Xchange Printer is the best PDF printer compatible with Windows 7 and Windows 10.
Pros:
Integrate file optimization with razor-sharp quality
Advanced and unique PDF editing options
Offer unbeatable power at an unbeatable price
Cons:
Its user interface is not as good as offered by the other programs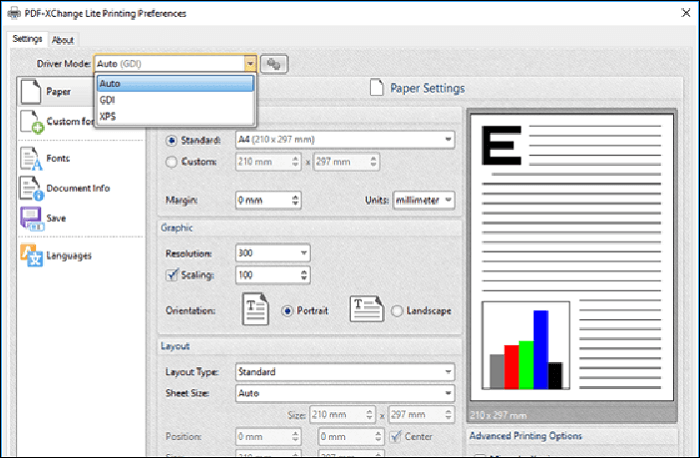 #5. Mac Computer Built-in PDF Printer
A free PDF printer for Mac users is Mac Computer Built-in PDF Printer. You can easily use the built-in printing feature of Mac that allows the users to create a PDF file directly. It moreover allows printing the documents, webpages, and any other kind of file as a PDF document without even requiring you to install any additional software. If you are confused regarding how to print PDF on Mac by using Mac Computer Built-In PDF Printer, it's quite simple that requires no advanced technical skills.
Pros:
Supported by all Mac versions
Allow the users to save the document as a PDF in the desired location
Allow the users to print a PDF document in just a few simple steps
No additional software is required
Cons:
Do not offer unique features like the other PDF printers for Mac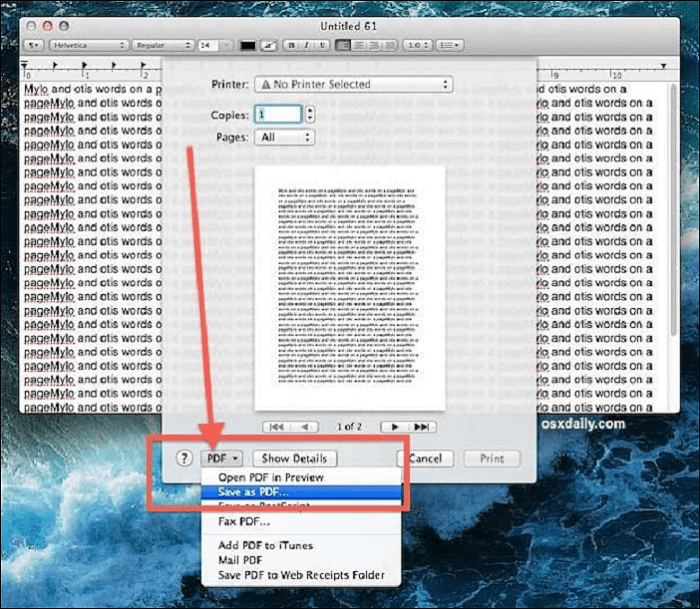 #6. Adobe Acrobat- Adobe PDF Printer Mac
The Adobe Acrobat makes it convenient and possible for you to create and print to PDF from any application on Mac. Whenever you download Adobe Acrobat, you will also be installing a virtual printer called Adobe PDF. While printing a PDF document with Adobe Acrobat, always keep in mind that this program will convert your document to an Adobe PDF file on Mac rather than printing sheets of paper. However, one essential thing to note here is that Adobe Acrobat XI has ended all its support now. So, you must always be ready with some of its best alternatives.
Pros:
Involve multiple professional printing and editing features
Convert the document to an Adobe PDF file on Mac
Easy to use user interface 
Cons:
Adobe Acrobat XI has ended all its support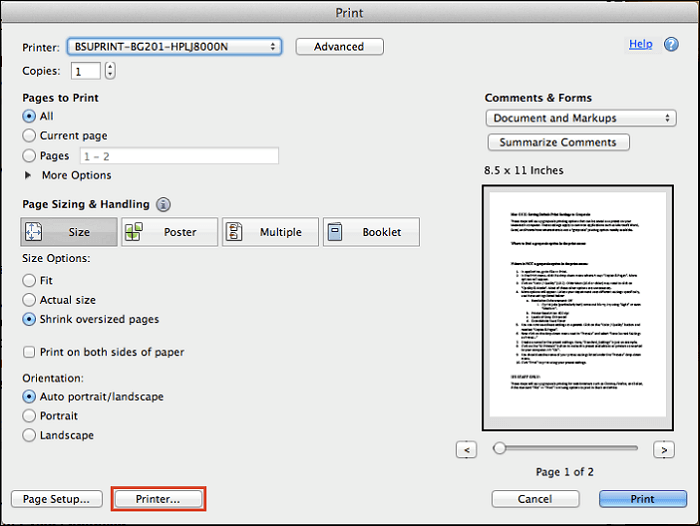 #7. CUTEPDF
With an easy-to-remember name, CUTEPDF is one of the most recommended free PDF printers for MAC. This outstanding PDF printing program for MAC works as a stand-alone interface that can work seamlessly with ghost script to help you create a PDF file without any need to buy the writer software. In order to learn how to print PDF on Mac with CUTEPDF printer, you will be required to install a PS2PDF converter which is basically a driver that supports processing PDF printing tasks on Mac.
Pros:
Printing involves using the "PRINT" button
Allow the users to select the destination folder to save the output file
Easy to use user-interface
Cons:
It does not offer a text editing tool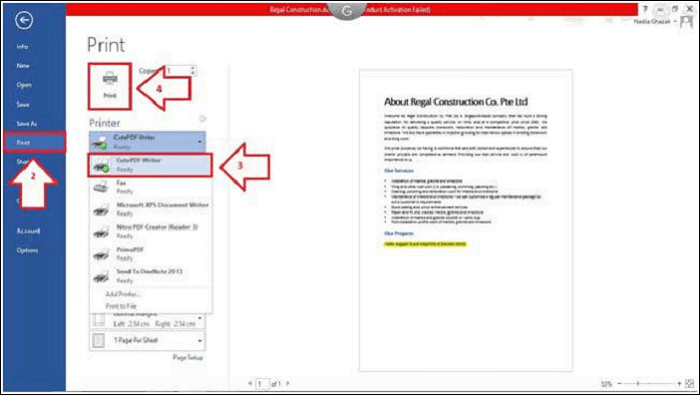 #8. PrinterShare™ Mobile Print 
PrinterShare™ Mobile Print is a PDF printing application for Android Smartphones. This PDF printing application is published by Mobile Dynamix. The PrinterShare™ Mobile Print application allows the users to print the PDF document from an Android tablet or Smartphone. In order to print the document as a PDF, you can use any of the multiple wireless connections like Bluetooth, Wi-FI, USB, or internet.
Pros:
Work excellently on Android V1.5 or higher
Offer multiple options for controlling the paper size, pager range, orientation, etc.
Available in paid and free version
Cons:
Some paper sizes like a ledger, letter, etc. may not be compatible with print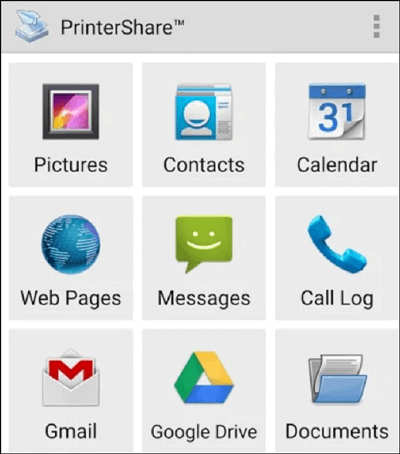 #9. iBooks (iOS)
For a while, "Print to PDF" has been the feature of the iOS X system. But it was not until version iOS 9 Apple released Save PDF to iBooks, which make the app a handy "printer" option. This feature was introduced in iOS 9 and assist users in rendering the content or document to a PDF file. After that, it lets users save the PDF directly to the library. You can view it later through the iBooks app.
Pros:
Available on every iPad and iPhone with iOS 9
Allow you to email the PDF document or share it to somewhere else
You can sync PDFs with iTunes to access them on a computer
Cons:
The app crashes, sometimes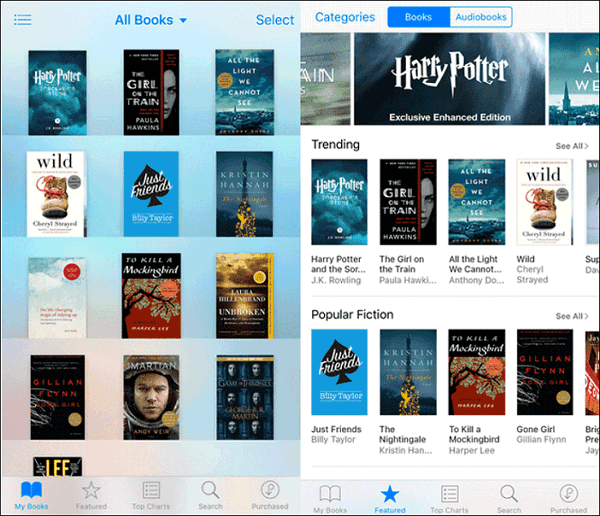 Conclusion
That's all on the best free PDF printers that are worth trying. Whether you want a PDF printer for Mac, Windows, Android, or iOS, all the above-mentioned options will genuinely offer you a flawless PDF printing experience. You can select any of them depending on your print to PDF requirements and the one that suits you the most based on their respective features, pros, and cons.