2021 | How to Add Text to PDF on Windows/Mac/Online

Jane Zhou updated on Apr 29, 2021 to PDF Editor Tutorials
There are many situations that call for adding text to PDF. For instance, you somehow forgot to add some important points to your PDF document after creating it. Or maybe, you need to insert text to fill a non-interactive form in PDF format.
Well, whatever your scenario is, you have come to the right place. This post will help you learn how to add text to PDF on Windows 10 and Mac.
Part 1. How to Add Text to a PDF on Windows 10
If you want to learn how to type on PDF on Windows 10, then you can use Adobe Acrobat, EaseUS PDF Editor, or Microsoft Word to get the job done.
1. Adobe Acrobat
Inserting text to PDF is no hassle with Adobe Acrobat. As a Windows PDF editor, it can help you do many more things, which include editing PDF, converting PDF, breaking a file into separated PDFs, or merging multiple files into one PDF, and more. However, it is a little expensive for most people. 
Step 1. To begin, open the PDF document in Acrobat.
Step 2. Go to "Tools" > " Edit PDF". You can now simply tap on the text you want to edit. Or, you can insert new text by selecting the "Fill & Sign".
Step 3. Tap anywhere on the file you would like to insert text and start typing.
Step 4. Once done, save your document.
Like Adobe Acrobat, EaseUS PDF Editor is a great tool to help you edit your PDF files. With an easy interface and workflow, it is best for beginners. Using this program, you can insert text, change the fonts or color, and even underline the text you want to emphasize. Also this Windows PDF editing software allows you to insert images, date, page numbers, or add hyperlink to PDF effortlessly. Apart from the editing features, it has many more options for you to explore:
Highlight:
Support importing and exporting more than 10 file formats
Allow you to manage PDF files like adding watermark or password to the files
Support OCR to make your scanned PDF files editable
Reduce PDF size with one click
Step by step to add text into PDF in Windows 10:
Step 1. Download EaseUS PDF Editor and launch it, then import your PDF file by clicking "Open Files…"
Step 2. When the PDF is imported, click "Edit" > "Add Text".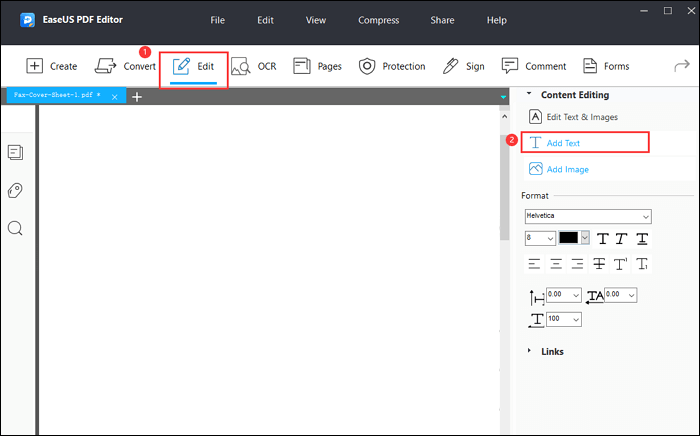 Step 3. Click on the area where you'd like to insert the text and type the word. You can customize the text fonts, color, and more on the right sidebar.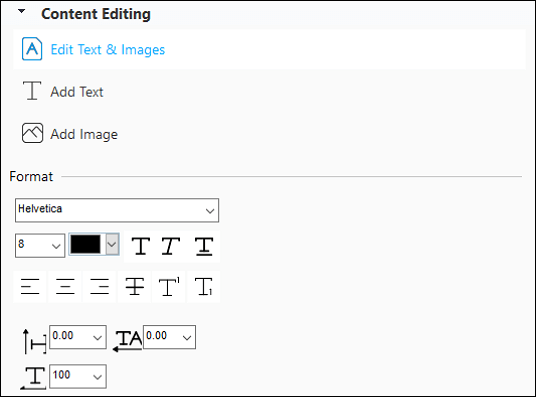 Step 4. When you finish the editing, you can click "File" > "Save" to keep the PDF file on your computer.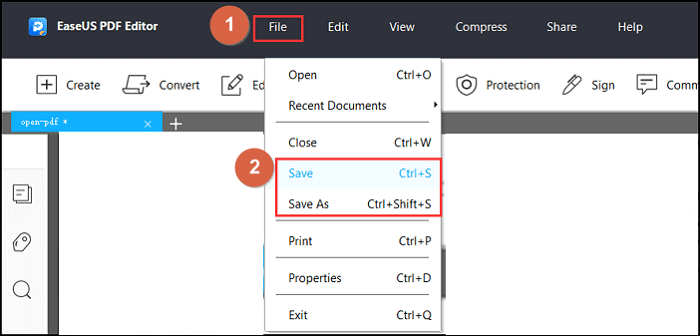 3. Microsoft Word
In case you do not have a pro version of Adobe Acrobat, no worries!! You can add text to PDF for free using Microsoft Word on your Windows 10 PC. The only concern is that your PDF file format might get altered when you open it in Microsoft Word.
Step 1. Launch File Explorer and locate the PDF file that you want to change. Right-tap document, choose "Open With" and select "Microsoft Word".
Step 2. Word will launch, and a message will appear, demonstrating that the file's appearance may alter. And you need to choose "Ok".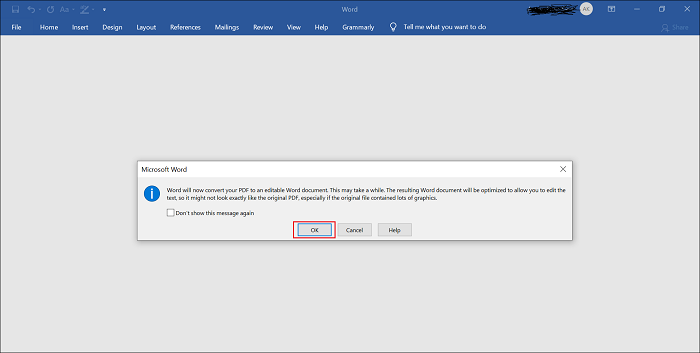 Step 3. Now, you can edit or insert text as required.
Step 4. After adding the text, go to "File" > "Save As". In the Save As dialog box, move to the folder where you would like to save the file and choose the "PDF" option from the "Save as type". Then you can now open an edited PDF and will notice changes.
Part 2. How to Add Text to a PDF on Mac
To add text to PDF for free on Mac, you can take the assistance of Preview.  It is a built-in utility in macOS for PDF files and image files such as PNG and JPG. Though its primary purpose allows you to view various documents with ease, it comes with several other cool features such as editing documents and markup features. It is a 100% free application to help you insert text into a PDF without any hassle.
Step 1. Right-tap the PDF you want to insert text to and select "Open With" > " Preview".
Step 2. Tap on the "Pen Point" icon to launch the markup toolbar.
Step 3. Select the "T" icon, and then a text box will show up on your PDF. Now, you can start typing. Along with that, you can alter the color, font, size, etc., using the "A" menu. Finally, save the edited PDF.

Part 3. How to Type on PDF Online for Free
If you are looking for a way to add text to PDF for free online, then you are in luck. There are tons of free online tools available out there to help you type on PDF directly into your web browser. So, you can save from the hassle of downloading any sort of program. As there are many options, it is a big hassle deciding which one is reliable to use. But no worries!! We have done the heavy lifting for you by identifying the best online tools to add text to PDF for free.
1. Google Docs
Our first recommendation to type on PDF online is Google Docs. It is one of the most popular and preferred word processing applications for individual as well as collaborative use. The good news is that Google Docs is 100% free to use with tons of features to offer. It comes with a robust suite of tools for editing purposes only, ranging from changing font type and size to adding text.
What's more, it has a straightforward interface and quick access to all features it has to offer. With its help, you can edit other files as well, including Excel, Word, PPT, etc., in addition to PDF.
Step 1. Go to Google Docs and sign in with your Google account.
Step 2. Click on the "File" icon to upload your PDF document in which you want to insert text.
Step 3. Once the PDF is successfully uploaded, it will open on the web browser. Tap the little trainable tab as shown in the below picture and select "Google Docs".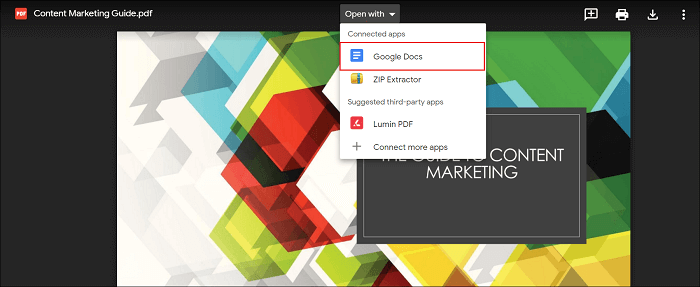 Step 4. The PDF will be navigated to Google Docs' online editing page. Now, insert text into the PDF.
You should know that typing text to PDF using Google Docs is possible for plain-text PDF documents only. Therefore, if you upload images or tables-contained file, the tables and images cannot be well preserved or shown.
Step 5. Once done, go to "File" > "Download" > "PDF Document" to download your PDF.
2. Sejda
Sejda is another great online tool that can help you insert text into PDF with ease. It works directly in your browser, and no need to install any program on your system. It comes with tons of features, making it a one-stop solution for PDF documents. With its help, you cannot just type text you want to but even convert, split, merge, or add clickable links. If you want to use it on your smartphones or tablets, you won't find any hassle. It works perfectly on a mobile's browser as well, giving you the flexibility to edit your PDF anytime and anywhere.
Step 1. Click on "Upload PDF file" to upload your PDF to which you want to add text.
Step 2. From the primary menu, select the "Text" option, as shown in the below picture.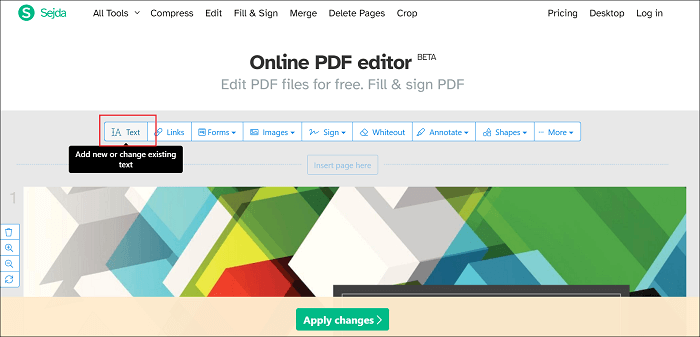 Step 3. Now, you can add text to your PDF. Along with that, you can change font type, color, etc., for your text.
Step 4. Finally, click on the "Apply Changes" > " Download" and that's it.
The Bottom Line
That's all on how to add text to PDF. Inserting text into your PDF is no hassle if you rely on the right tools to get the job done. Luckily, there are so many utilities available to help you, from EaseUS PDF Editor and Microsoft Word to Preview and online PDF editors. Pick the one you find most convenient and trouble-free to type on PDF.