How to Add Page Numbers to PDF Without Acrobat

Crystal Chen updated on Jul 12, 2021 to PDF Editor Tutorials
There are some benefits to add a page number. Firstly, it allows the viewers to know their reading process. When the page is provided with a number, it's very convenient for the reader to search for something. Secondly, numbering the pages in sequence makes your work more prepared. If you are a student, including the page numbers on your essay is necessary.
With the help of PDF editors, you can easily edit your PDFs with page numbers. This post provides ways on how to add page numbers to PDF without Acrobat. Based on your needs, you can choose one Windows PDF editor from the below tools. Also, other features in editing are supported, such as editing the text and images without losing quality.
How to Add Page Numbers to PDF Without Acrobat
In addition to Acrobat, there are more effective ways to add page numbers in a PDF. Followed are several tools for operating this function. Keep reading this article, and you will find a method that suits your needs.
Tool 1. EaseUS PDF Editor
People may get lost in reading when dealing with a large document. Therefore, numbering the pages in the sequence is very necessary for practical usage. With the help of PDF editing software, you can include the page mark on the target page. Moreover, its editing function is very functional as you can set more formattings.
You can select where your page mark is shown. Based on your needs, you can put it into center or side places. Meanwhile, you are allowed to change font name, size, and color when adding numbers. It's beneficial if you want to make a difference in your PDFs. This editor is proven to be very powerful as it allows you to split, rotate, and add watermark to PDF.
Main Features:
Add image and text to PDF
Easily create a bookmark in PDF 
Add date to a PDF for ease
Rearrange PDF pages without losing quality
Make PDF searchable efficiently
Before you refer to our step-to-step guides, remember to download this editor for free!
Here, simple steps are provided to you to insert page numbers as you like. 
Step 1. Launch EaseUS PDF Editor on your Windows PC, and import the PDF to which you want to add the page number by clicking on the "Open Files..." button on the main interface.
Step 2. Then, click on the "Pages" button, and you will see a toolbar on your right side. Under the "Header & Footer" tab, there are several options, and you need to click on the "Add" button to add the page number. 
Step 3. In this window, you can decide where you want to add the page number. For example, you can choose to add the page number as the "Center Footer Text" or set the page number as a header. Then, you need to click on the "Insert Page Number" button to set the start number. And you can click on "OK" to add the page numbers.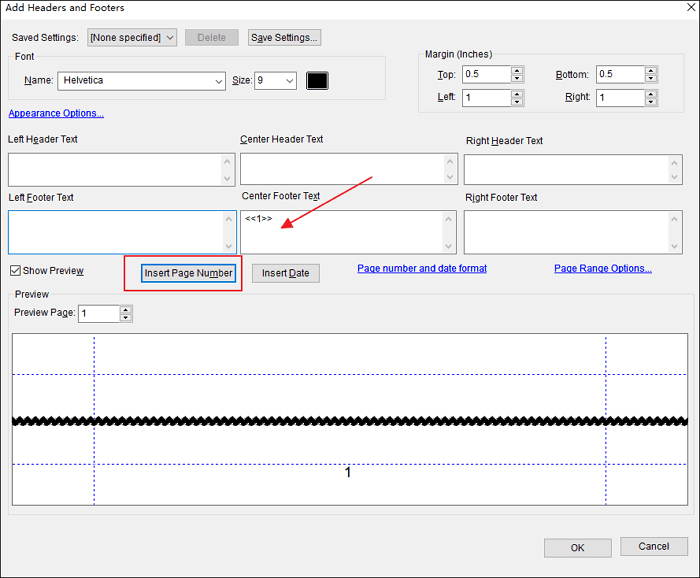 Step 4. If there is nothing wrong with the PDF file, you can choose the "Save" or "Save As" under the "File" tab. The PDF file with the correct page numbers will be saved on your computer when you are done.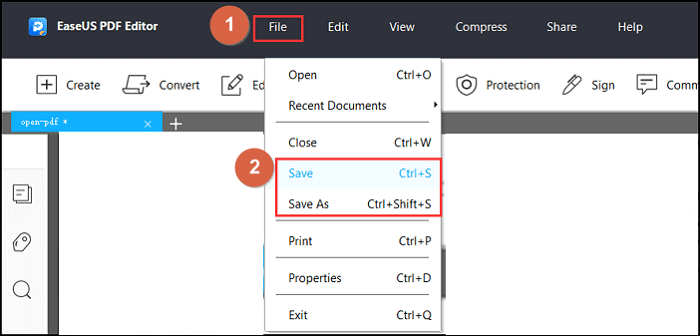 Tool 2. iLovePDF
Sending a numbered page to others is a good habit if you are an employee or a student. iLovePDF is an online tool that offers the function for you to include page numbers. Without installation, you can use it to edit your PDF quickly. If you want to save your computer storage, this tool is suitable for you.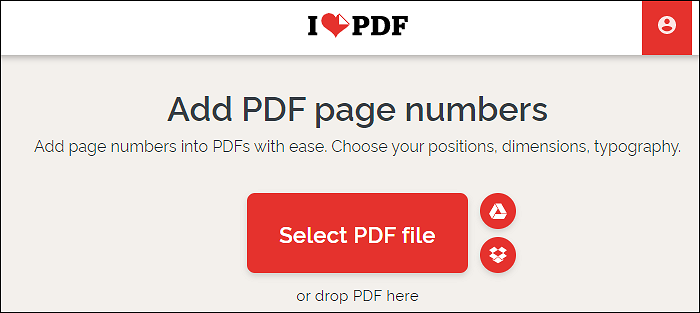 Followed is a simple guide for you to include your page number. 
Step 1. Open this online editor, and choose "Select PDF File." Or you can drop a PDF file into this web page. 
Step 2. On the right side of the page, you have more choices like choosing the position to be added or selecting the targeted pages to be edited. Also, you are allowed to set the text format.
Step 3. Once you are satisfied with your formattings, you can click on the "Add page numbers" button to make it.
Bonus Tips: Add Page Numbers to PDF With Acrobat
Acrobat is famous for its powerful function in editing PDF files. It provides an easy and quick way to insert your page number into a PDF. By using this functional software, you can insert numbers to any of the pages in a PDF.
Meanwhile, its complete productivity method helps you edit PDFs in many areas, such as cropping, merging, and rotating PDFs. Followed is an easy guide for you to add page numbers using this tool.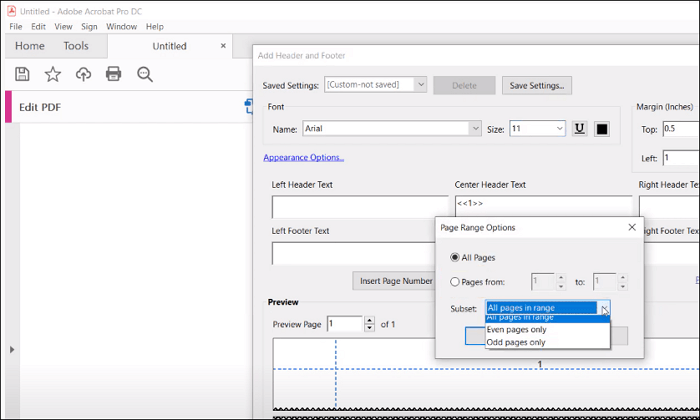 Before that, make sure you have downloaded this tool for free!
Here, we look at the steps to add page numbers to your PDF.
Step 1. Once you have opened the editor, go to the "Tools" menu and click on "Edit PDF." In the toolbar, you will see "Header & Footer" and click it.
Step 2. Followed this, you should select the page number you want to edit. Meanwhile, you need to remember to change the font name and size. Then, choose the "Insert Page Number" button to operate the mission.
Step 3. When you are satisfied with your formatting, just choose "OK" to complete the task.