How to Add Header and Footer to PDF

Jane Zhou updated on Aug 02, 2021 to PDF Editor Tutorials
There are several keys to writing a perfect PDF you would like to learn. Creating headers and footers is a must for everyone who is looking to design text-based content. Not all PDF editors offer you enough tools for it. A good editor is essential to improve the quality of text documents, opening new doors for working carriers, from writing trustworthy legal documents to delivering formatted books for your clients.
But which editor is the most recommended for adding header and footer to PDF? With so many options, it can be difficult for an inexperienced user to decide.
To help you, we will show you how to add a header and footer to PDF on any operating system.
How to Add Header and Footer to PDF on Windows
EaseUS PDF Editor is a Windows utility that allows you to create and edit PDF documents simply by converting existing files and folders. It is also possible to convert other formats such as MS Office documents, images, HTML into PDF format.
With this Windows PDF editor, you can change, delete, insert, extract, and merge PDF pages with a few clicks. It also allows you to encrypt, decrypt, protect, split, and merge PDF files, as well as create a PDF file from scratch.
And if the PDF document is sensitive, you can enter a password to protect it. This feature you will not find in other free PDF editors.
Step by step guide to inserting header and footer into PDF in Windows:
Step 1. Launch the EaseUS PDF Editor and click on Open File, then select the desired PDF.
Step 2. After loading the PDF file, click on Pages. On the right menu, select "Add" below the "Header and Footer" section.
Step 3. Customize the settings. A new window will open with the option of inserting the texts in 3 different positions in the header and footer. You can define the distance from the margins, text color, font type, and font size. Click on OK.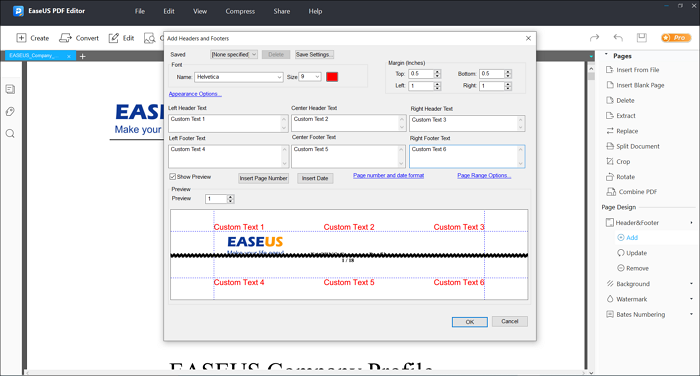 Step 4. Finally, click "File" > "Save" to export the edited PDF file with header and footer.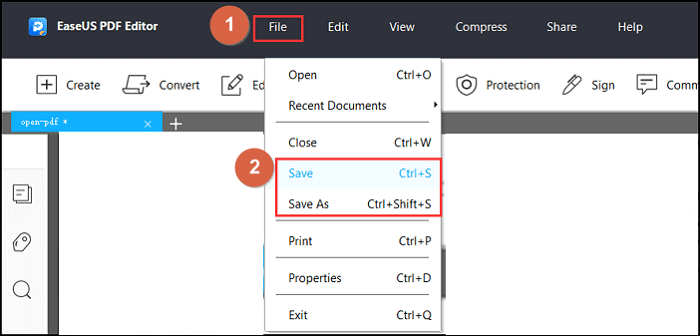 How to Insert Header and Footer to PDF Online for Free
Free PDF Online (https://freepdfonline.com/addheaderfooter/) is a good option for you to insert the header and footer in PDF, where you can change the file without having to download a file. It can be a good option for those who need to change the PDF using a tablet or smartphone.
This application has the function Add Header and Footer. You can add headers and footers to the pages of a PDF document with various options for positioning, angle, opacity, etc.
Here is how to add a header or footer to PDF online:
Step 1. Click on Choose File to select your PDF file.

Step 2. Click in Options, choose the text and the page numbers that you would like to add headers and footers to separated by colons. 

Step 3. Click on Start and wait for the changes to load. Once done, download it!

How to Embed Header and Footer on Mac
You will hardly find a free version of an editor to add header and footer to PDF for macOS, but this version from PDF Reader Pro can help you.
PDF Reader Pro is a PDF editor that combines PDF editing, viewing, and creating into one easy-to-use program. It offers many ways to save PDFs, email files, convert formats, and more. 
Whether you're looking to fill in PDF forms, create a multi-page PDF from multiple files, or just want to view your file and print it, PDF Reader Pro will get the job done.
Don't waste your time, now you can finally read PDF files online and avoid the annoyance of copying and pasting or retyping information. 
Step 1. Open the PDF file you'll put the header and footer with PDF Reader Pro.
Step 2. Choose Tools, pick Header & Footer and Add Header and Footer.
Step 3. Create your header and footer with all the details you need, like Font Size, Start Page Number, Text Location, and more.
Conclusion
As we can see, there are several software options to add header and footer to PDF. But as we have seen throughout this article, the free alternatives are limited, so you need to estimate your needs before choosing a favorite editor.
The EaseUS PDF Editor offers a lot of extra features, giving you plenty of high benefits for a low cost. It has a good price-performance ratio since it lets you not only add headers and footers. It also puts in your hands all tools a professional needs to edit PDFs.