How to Add a Date Stamp to PDF Document

Jane Zhou updated on Apr 28, 2021 to PDF Editor Tutorials
PDF is an ideal file format when it comes to sharing documents online. After all, PDFs can be easily ready anywhere, on any platform or device. If you handle time-sensitive documents such as finance, medicine, or alike, you will often find yourself in need of adding date information.
If it is your first time trying to insert a date stamp into a PDF document, you may find it hassle inserting a date into a PDF. But no worries. This post focuses on helping you learn how to add a date to a PDF on both Windows PC and Mac. We will walk you through both offline and online ways to date a PDF document with ease.
How to Add a Date to PDF on Windows 10
Using EaseUS PDF Editor, you can easily insert date to your PDF files easily on Windows PC. While editing, you can flexibly place the date in the left, middle, or right of the Header & Footer. Besides, this PDF editing software enables you to add page numbers, watermark, signature, and even password protect PDF files effortlessly. 
Apart from the editing functions, you also can use it to create, view, and convert your PDF documents. It supports many common Microsoft file and image formats like doc, xls, png, etc., which means you are able to change PDF formats in seconds. 
Now try this versatile Windows PDF editor to insert date stamp into your PDFs.
Tutorial to insert a date to PDF document on Windows 10 PC:
Step 1. Launch PDF editor and import your PDF files.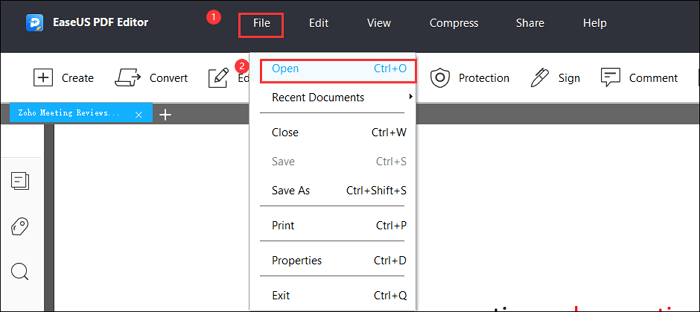 Step 2. Click the "Pages" tab in the top toolbar. Next, under the Page Design menu, click "Header&Footer" > "Add" to open the window.
Step 3. In the "Add Headers and Footers" window, choose the "Insert Date" option to add a date to your PDF document. Here you can place the date in the header or footer. Once done, click "OK".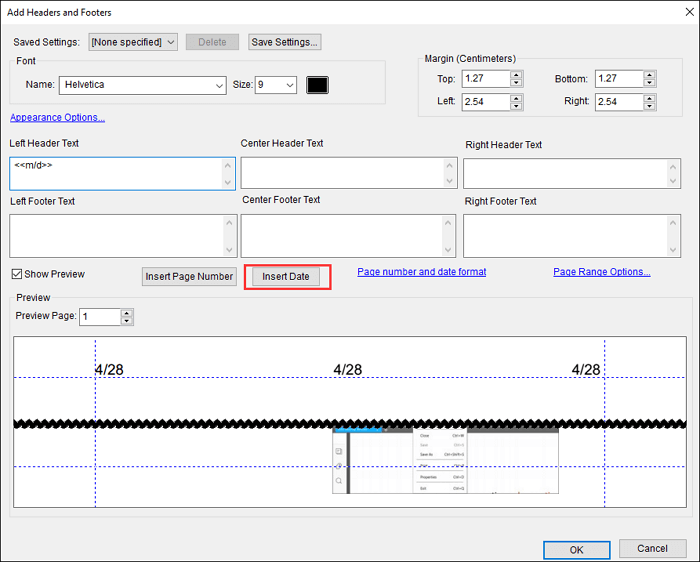 Step 4. Click "File" > "Save" to export your edited PDF file.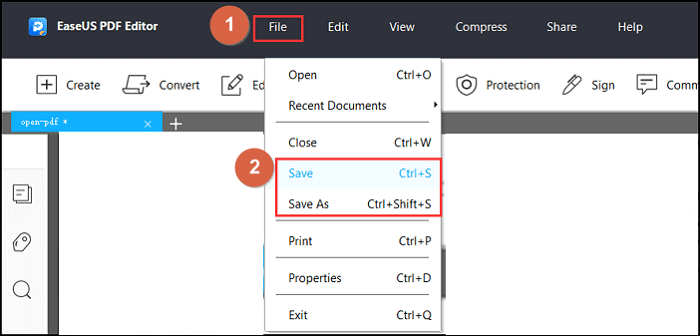 How to Add Date to PDF with Adobe on Mac
With the assistance of the free Adobe Reader utility that may already have installed on your system, you can easily add a date to your PDF document. Using Adobe Reader, inserting a date into PDFs is a hassle-free process, and it can even help you add image to PDF if you want. What's more, Adobe Reader is available for both Windows and Mac users. Thus, if you already have it on your computer, continue with the below steps. If not, then first get it from its official site.
Step 1. Get Adobe Reader if you don't have on your system and then open it.
Step 2. Upload your document by clicking on "File" > "Open". Or you can simply locate the PDF file in which you want to add the date and then choose "Open with Adobe Reader".
Step 3. From the right-side menu, click on the "Fill & Sign" option.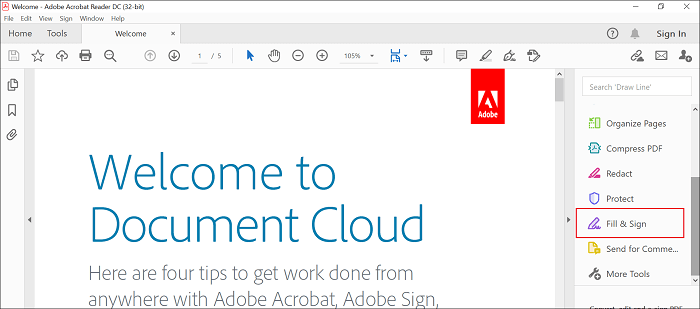 Step 4. After that, click on the "Text" icon as shown in the below figure to add a date in the target place within your PDF.
Step 5. Finally, save your PDF by clicking on the "File" > "Save or Save As".
How to Date a PDF Online for Free
If you wonder how to date a PDF for free online, then we have amazing news for you. There are some great online PDF editors out there that can help you get the job done online directly in the browser of your preference. No worries if you are having a hard time finding or deciding which online tool to use to insert a date into PDFs online.  After trying many tools, we found the below two options worth trying. So, have a look!!
1. pdfFiller
When it comes to editing, creating, and managing PDF files and forms online, you will not find any better solution than pdfFiller.
It has everything you need to address your common PDFs problems. What's more, you do not have to worry about the browser it supports as it is compatible with all web browsers out there, and it works on both Windows PC and Mac. Also, it saves you from the hassle of installing any additional tool or complex tutorials on how to add page numbers to PDF. So, now you can stop your hunt for an online way to add a date to PDF.
Step 1. To commence the process of adding a date to PDF, upload your document, and this may take time depending on the size of your document.
Step 2. Click on the "Date" button, and the tool will automatically create today's date, and then you can position it to the target place.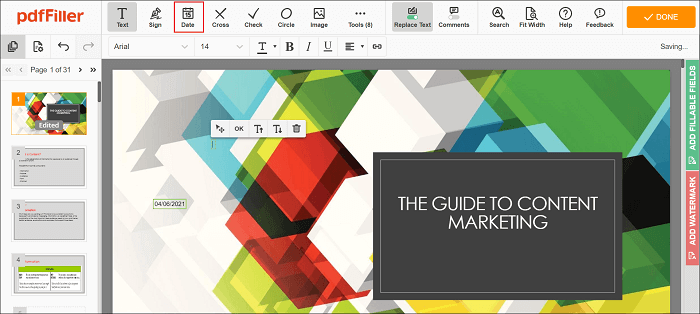 Step 3. In case you would like to edit the content, click on the "Tools" tab for changes.
You can also add fillable fields by clicking on the "Add Fillable Fields" tab located at the right and insert fillable fields for signatures, images, and more.
Step 4. Once you are done, click on the "Done" button and save, email, or print your document.
2. Smallpdf eSign
To add a date to PDF online for free, you can also count on eSign PDF form Smallpdf. Designed to create signatures and sign documents digitally and invite other people to sign, eSign PDF can also help you insert date and time into your PDF with ease.
This utility is compatible with all internet browsers and works on any device, including Mac, Windows PC, or Linux. To ensure their user's safety, the tool remove uploaded documents from their servers after one hour. What's more, it has a very straightforward process to date a PDF.
Step 1. To begin, go to the official website and upload your document.
Step 2. Once uploading the PDF, click on the "Date" icon as shown in the figure. The tool will automatically generate today's date and then place it in the target place.
Step 3. Finally, click on the "Finish & Sign" button and then click on "Save" > " Save to Device".
The Bottom Line
That's all on how to add a date to PDF. We have discussed here all the handy ways to help you date your PDF document. You can either count on offline tools like EaseUS PDF Editor to add a date to PDF or consider using online utilities such as pdfFiller if you have access to a reliable internet connection. Well, in the end, the choice is yours – pick the one you find most hassle-free to help you get the job done with ease.
How to Date a PDF FAQs
1. How do I add a date and time stamp to a PDF?
You can insert a date and time stamp into your PDF document with the assistance of Adobe utility or online tools like pdfFiller. Both ways have a straightforward process to add a date and time stamp to PDF as discussed in the above guide.
2. How do I autofill dates in Adobe?
Well, if you would like to know the exact date someone completes a form you have shared, then you can add a text field to your PDF form that will add the current date automatically. The catch is that it is a bit tricky process if you are not from a technical background. This process involves the usage of simple JavaScript at the page level. However, it is a two-step procedure. The first is to insert the date field to your PDF and then insert the JavaScript to the Page Properties.
3. How do I insert a date stamp in Adobe Acrobat?
You can apply Dynamic stamps to your PDF document using Adobe Acrobat, which obtains data from your system, enabling you to show the date on the stamp.