How to Convert PDF to BMP on Windows/Online Easily

Vanessa Chiang updated on Apr 29, 2021 to PDF Converter Tutorials
BMP is a raster image format used to store bitmap graphics on Windows, Classic Mac OS, OS/2, and eComStation systems. It is a very versatile image format that can store a lot of details for images and diagrams.
While PDF is popular for documentation, BMP offers uncompressed details. On top of this, BMP is a native type of image file that can be created and edited with a few different tools and is used by many people to export images in bitmap form. It is also difficult to edit.
This post looks at multiple ways and tools that help you convert PDF to BMP format.
How to Convert PDF to BMP on Windows 
To pick up the most powerful PDF converter on Windows, you need to know the differences between their functions. This part will introduce the features of two PDF converting tools respectively so that you can select the most suitable one. 
When it comes to the best PDF converter on Windows, it's difficult to reach a consensus on the issue. But EaseUS PDF Editor stands out from all the PDF converting tools because of its rich features.
This software supports many frequently-used formats. When you want to get a PDF from files in other formats, it's straightforward to import the source file, and this tool will start the conversion automatically. For example, you can convert Word document to PDF in only a few steps.
On the contrary, if you get a PDF file and want to convert it into BMP format, this tool can also complete the conversion task efficiently. The tutorial below will guide you to convert the PDF, and you need to install this software beforehand. Now, you can click on this button to download it for free.
Steps to Convert PDF to BMP:
Step 1. Launch EaseUS PDF Editor and click on "File" > "Open" to import the PDF file you want to convert.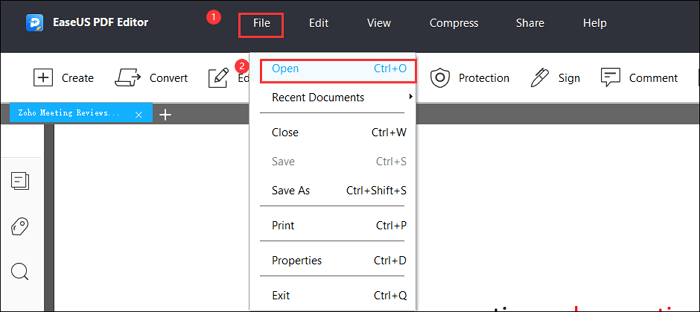 Step 2. Click on the "Convert" button, and select "To Bitmap" from the drop-down menu.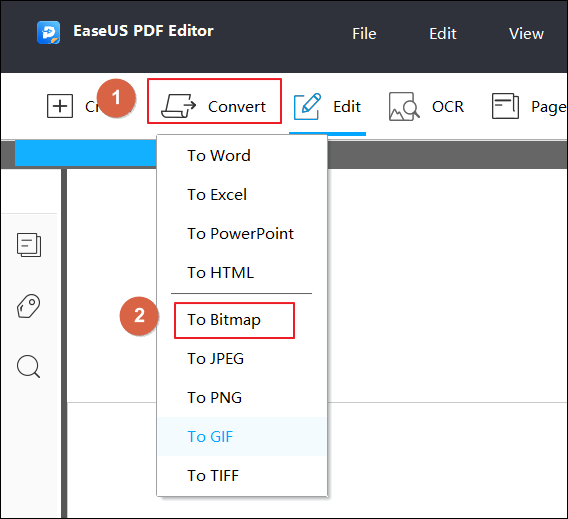 Step 3. Choose the page range of the conversion. You can choose from converting the current page, all the pages, or some specific pages. Then, click on the "Ok" button.
Step 4. A pop-up window will ask you to name the BMP files and select the folder to save the BMPs. The "Settings..." button gives you options to customize the colorspace, resolution, etc. Don't forget to click on "OK" to apply the settings. Finally, click on the "Save" button to start converting.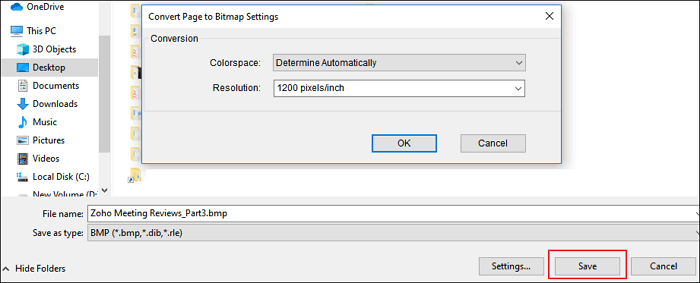 Tool 2. AnyPDF
AnyPDF is a software or a desktop tool that can convert a PDF file to any image format, including BMP. It offers a printer-like interface that allows you to choose which pages can be converted, and the scale which helps to improve the readability of the font size is too small.
When converting multiple PDF files, you can choose to create a folder for each PDF file as each page is converted to one image. Further, it allows resizing individual PDF pages, which helps remove anything unnecessary which is not required in the final print.
One of the best parts of using this software is that it is swift at bulk conversion. If you have a ton of PDF files you need to convert to BMP, then this is the tool you need to use.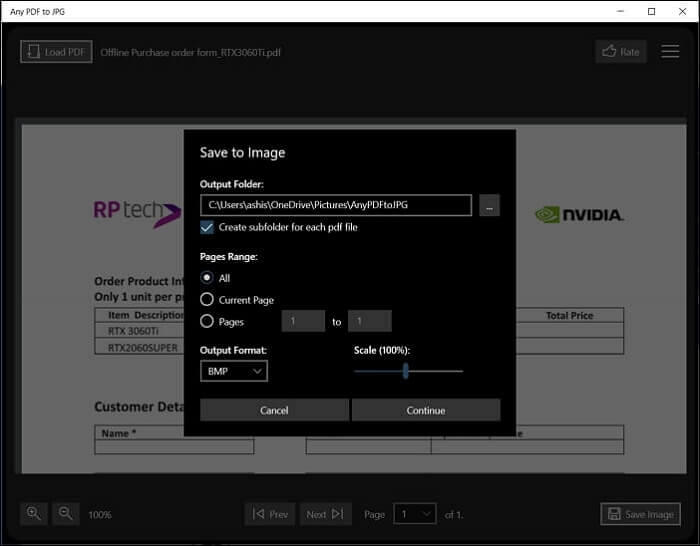 Steps to Convert PDF to BMP:
Step 1. Download and install the tool from the Microsoft Store. Keep the PDF ready, and remember the location so it will be easy for the browser.
Step 2. Click on the Load PDF button and then select the PDF file. It will then ask you to select the output folder and create a subfolder, set page range, output format (BMP) in this case, and scale.
Step 3. Click on Continue, and once the process is complete, it will prompt you with the option to open the output folder. The file will be available as a BMP file.
Try: https://www.anywaysoft.com/
How to Convert PDF to BMP Online 
PDFCandy is an online tool that offers zero installation PDF to BMP conversion of files. Since it's an online tool, it works across platforms, and that over SSL making it secure. While it works fine, there are problems such as you cannot choose which page to convert, and if you only want to convert few pages, it will be painful to do it from the BMP file.
The service also offers paid plan for those who need to do this every day or need it for their project. There will be no hourly limits, upload larger-size files, get high-priority processing, and so on. You can also create a free account with them and then manage all your conversion. It allows you more control over the uploaded files and tracks the history of the converted files.
There are few drawbacks of this tool as well. The conversion priority is low, and file size is limited to a few MBS. Even if you take the paid plan, it will be a maximum of 500 MB. The free tool also has hourly limitations.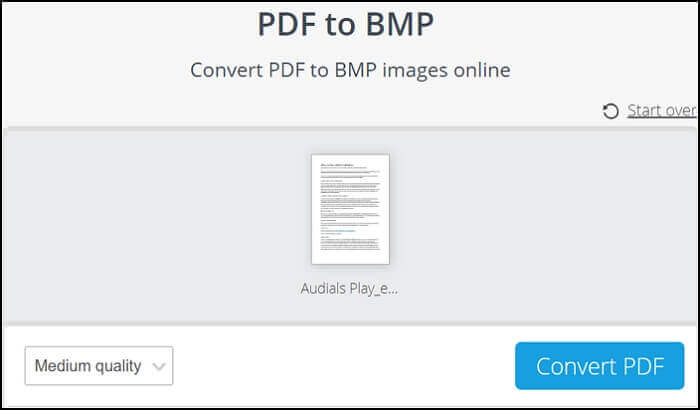 Steps to Convert PDF to BMP Online:
Step 1. Open the website and click on the upload file button. You can also drag and drop the PDF file or provide a URL from Google or Dropbox cloud storage with public access.
Step 2. Once the file upload is complete, you will get to see a preview. You can then choose the quality of the output image (Low, Medium, and High).
Step 3. Finally, click on the Convert PDF button. The task will be queued and will take around 20 to one minute to convert. It will depend on the size of the PDF file. Click on the Download file button when it appears.
Try: https://PDFcandy.com/PDF-to-bmp.html
Other 3 PDF to BMP Converters Online 
Let's talk about few more online converters, their functions, pros, and cons.
Online-Convert
This online tool offers many options before conversion, enhancing the image's quality, right from size, color, option to sharpen, and DPI settings. So if you need to have full control over the output, this is the tool you need to check. Similar to other tools, it offers a plethora of conversion tools for every need.
You can create an account with them, and then you will be able to manage all your conversion centrally. It is one of the tools which offers granular control, color correction methods, pixel cropping, black and white threshold before the conversion. You can save these settings under different names so you can use them often and save time.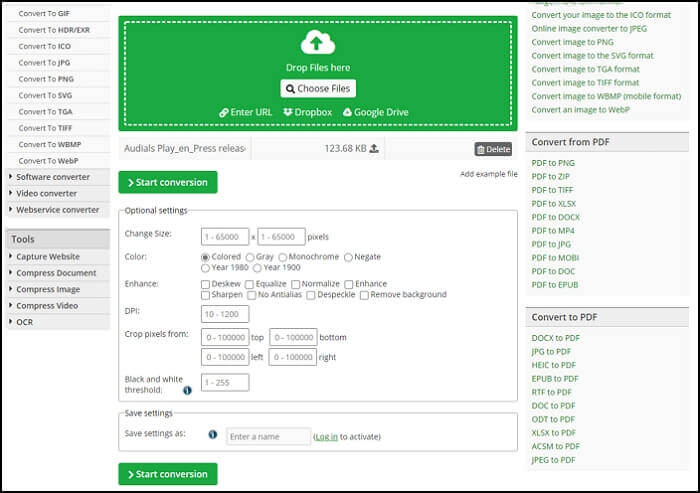 Pros:
Good quality management
Convert multiple PDF files to BMP
Save settings to reuse the next time again
Cons:
No preview
No individual images for each page
Try: https://image.online-convert.com/convert/PDF-to-bmp
PDFChef
If all you want is a simple convertor that gets the job correctly, PDFChef offers quick conversion and converts each page into a separate file. When you download the file, it will be a zip file with each page converted to individual images.
The file conversion speed will depend on the PDF file size, but it's comparatively quick. You can download files for each conversion separately. The service offers a desktop tool as well if you like to use the software.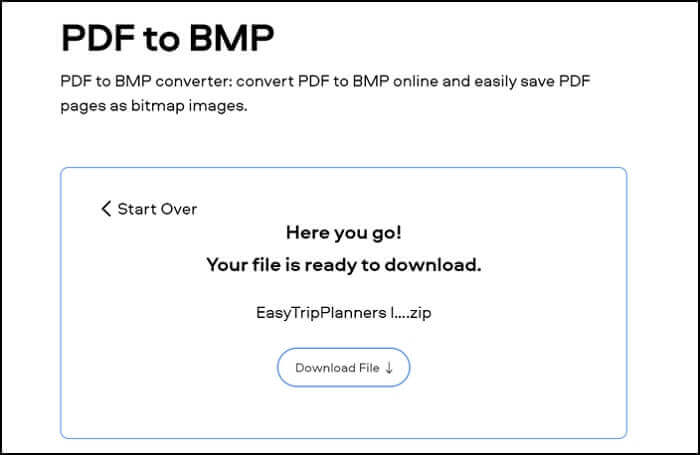 Pros:
Faster conversion service
Offer Chrome extension
Optimal image processing for the highest quality
256-bit SSL encryption
Cons:
No preview of the file
No option to skip in-between pages
Try: https://PDFchef.com/PDF-to-bmp.html
CloudConvert
It is an online document converter that can convert a plethora of files into other formats. It also offers PDF to BMP. The good part is that it offers bulk conversion of the file, saving a lot of time. If there is any mistake, you can quickly retry without upload the original file again. It is useful when you have too many files.
The service supports the latest standards of Office and PDF documents. However, the conversion is limited to 25 conversions per day. If you need anything more, you will have to opt-in for their premium services.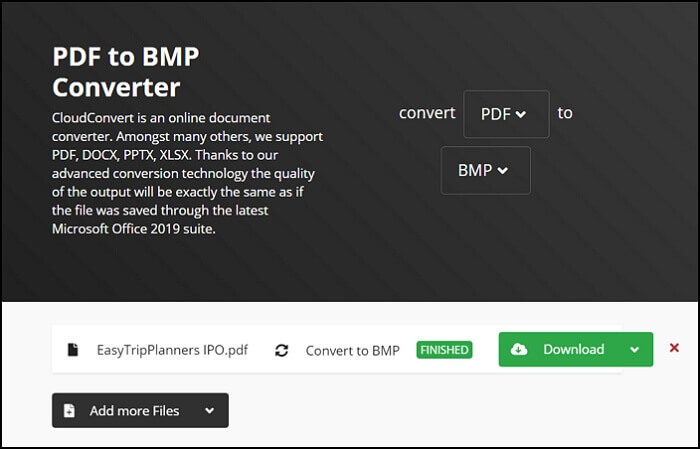 Pros:
Large file support
Individual file creation for each page
Advanced conversion technology
Cons:
File conversion takes time
Privacy issues
Try: https://cloudconvert.com/PDF-to-bmp
Conclusion
BMP may not be as popular as it was in the days of Windows XP, but the format still has its place in the modern world. Unlike a PDF, BMP files can be saved and edited, and they can be used for overlay graphics and other purposes. Formats such as these can store many details that are usually lost or discard as they are converted into a different format.
If you want to get into the format's nitty-gritty, check out the Wikipedia page for BMP files. But if you're looking for a convenient way to share images, Excel, PowerPoint, and other Microsoft Office files with friends, a BMP file might be just what you need.