Top 9 Free PDF Converter for Both Windows and Mac

Jane Zhou updated on May 28, 2021 to PDF Converter Tutorials
One of the safest file formats to distribute important information is PDF. Whenever you use this file type, you ensure that whoever you are sending the file will see it the same way as you do. Even though this is one of its most significant advantages, it can be a complication at the same time. Since PDF files try to ensure the continuity of the text format, it can be tedious and sometimes impossible to edit text and page content.
Fortunately, various software can help you convert your PDF file into other editable formats like Word, Excel, etc. If you need such software to convert your PDF files, keep reading to discover the best free PDF converter for Windows and Mac computers.
1. EaseUS PDF Editor
Compatibility: Windows
EaseUS PDF Editor is a modern and innovative free PDF converter that can help you convert any PDF file into other file formats in seconds. Furthermore, you can use this program for so much more. For instance, it can also assist you in doing advanced editing activities in your PDF documents, such as inserting and editing text, managing page formats and layouts, and compressing heavy PDF files.
Likewise, it is a great program to use when increasing the protection of your documents. With this Windows PDF editor, you can put a password on your file to prevent anyone from opening it. In addition, it was designed with a beautiful and simple user interface that any type of user can understand! If you need a free PDF converter, there is no better alternative to this program for Windows.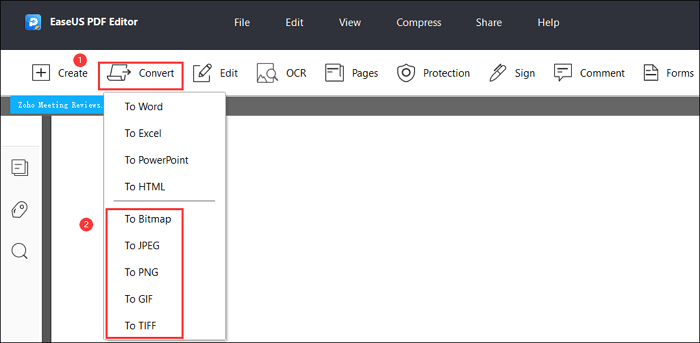 Pros:
Compatible with several file formats
Convert PDF file format to other document formats in seconds
Edit text properties (font, size, color, spacing, placement, etc.)
Add, delete and modify PDF pages
Merge and compress PDF files
Cons:
Some advanced features may require payment
2. Adobe Acrobat
Adobe Acrobat is another excellent free PDF converter to use. It also guarantees a swift conversion of PDF files to different file formats. Even though you can accomplish many things with Adobe Reader, it can be hard to use. Therefore, it is advisable to educate yourself with Acrobat's outstanding features; only then will you get work done quickly.
Also, when you're not in the office, you can use Acrobat on your phone to keep working on your files. Adobe has also integrated OCR software which enables you to convert scanned pictures into editable text format. While this tool is quite versatile, it is not cheap, so you might have to pay a lot of money to use its advanced services.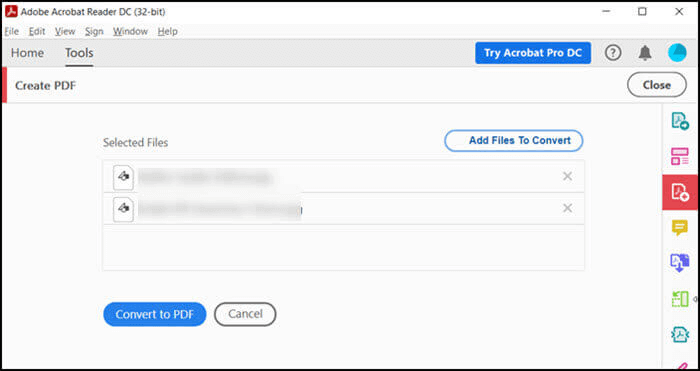 Pros:
OCR software to convert scanned documents into text
Several editing tools to highlight, add annotations, and change text properties
Add electronic signatures to PDF files
Cons:
Complicated user interface
The advanced version is expensive
Compatibility: Windows and Mac
3. ABBYY FineReader
ABBYY FineReader is one of the most known PDF converters, which has specialized in OCR and file conversion processes. With this software, you can convert scanned paper documents, pictures, and PDFs into Word, Excel, and other file types in seconds without retyping any misspelled word.
This program respects document style and structure with improved converting outcomes and accuracy rate. Furthermore, you also have access to other editing and organization features to edit text, tables, and layouts as you please.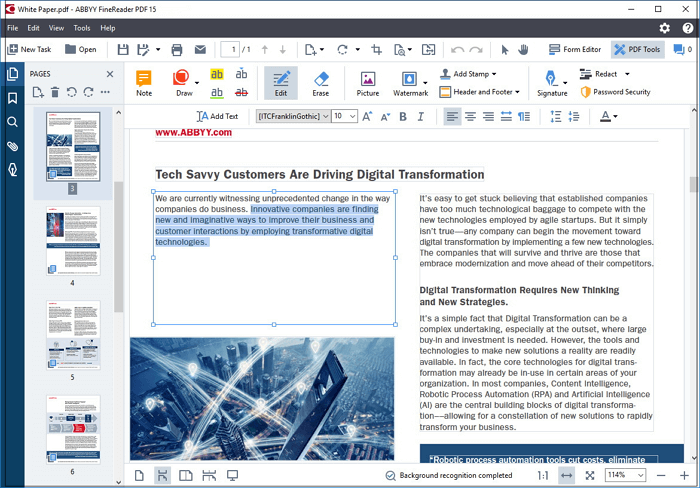 Pros:
Create and convert PDF to several file formats
Protect and sign your PDF files
Digitalize your scans with OCR
Cons:
The version for individuals is not as advanced as the business version
Compatibility: Windows
4. PDF Architect
Another free PDF converter is PDF Architect. This program has a simple and straightforward user interface that allows you to quickly get things done due to its 12 navigation tabs on the top page.
This software can convert images and scanned documents into every editable and printable file format. Plus, you can even batch produce, scan and integrate your files. Also, this PDF converter is an attractive solution if you are looking to protect your sensitive material. You can use it to place password encryption and permissions to documents.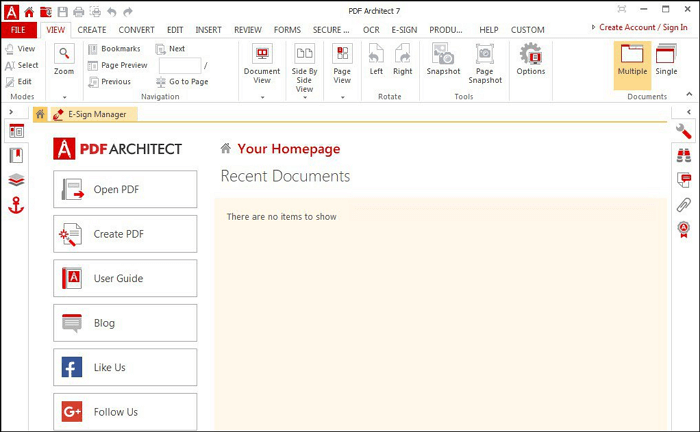 Pros:
Convert PDF to Word, Excel, HTML, text files, and images
Create, view and edit PDF files
Work, compare and merge with multiple documents
Insert annotations and comments
Cons:
Advanced features are expensive
Compatibility: Windows
5. Nitro PDF
Nitro offers PDF productivity features to any kind of user. For several years, it has been among the best free PDF converters as well. It is compatible with other programs, which enables it to convert to different document formats and layouts.
A significant advantage of Nitro PDF over most of the competition is that it preserves the original fonts, graphics, and everything else in the original files. Nitro PDF may also be used to convert email attachments and media into PDF files, which you can then archived for convenient access. Another appealing feature of this converter is the ability to convert many files at once. In addition, you have access to other text and page editing features.
Pros:
Convert PDF files to other text and images format
Insert watermarks, bookmarks, logos, and  add page numbers to PDF
OCR technology to turn scans into editable PDF
Cons:
It has limited page editing tools
Compatibility: Windows
6. Soda PDF
With Soda PDF, you can access read-to-PDF functionality with simulated page-flipping. This allows you to create PDFs from any file and convert them back to all editable file formats like Word, PPT, and Excel. Unlike other PDF converters, it is free software that lets you access features no matter where you are or what device you're using.
This program can also help insert and collect legally binding e-signatures quickly and easily. Furthermore, you can insert a 256-bit AES password to protect the security of sensitive materials.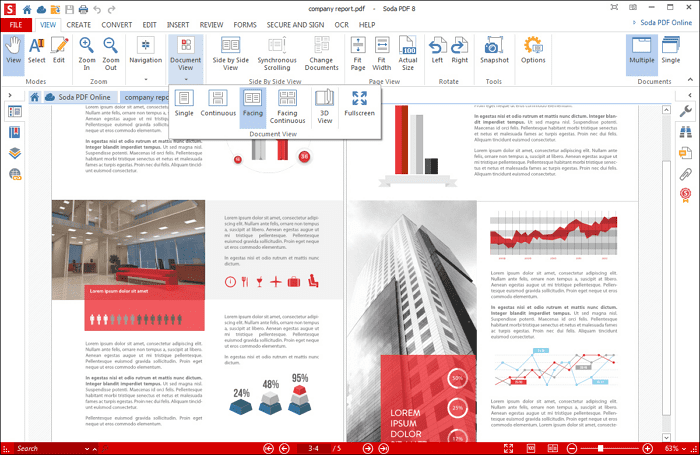 Pros:
Create and convert PDF from scratch, scan, or any document format
Work online and offline across multiple devices
Protect your files with advanced security measures
Create, modify and remove text and pages from PDF
Cons:
It can't work on several PDFs at the same time
Compatibility: Windows and Mac 
7. Power PDF
Power PDF Standard is a fantastic PDF converter compatible with several text and image file formats. Also, this program allows you to edit, combine, and assemble several files with ease. It has some of the most accurate scanned PDF to editable text OCR conversions. Likewise, it is also widely used because of its PDF fillable form capabilities.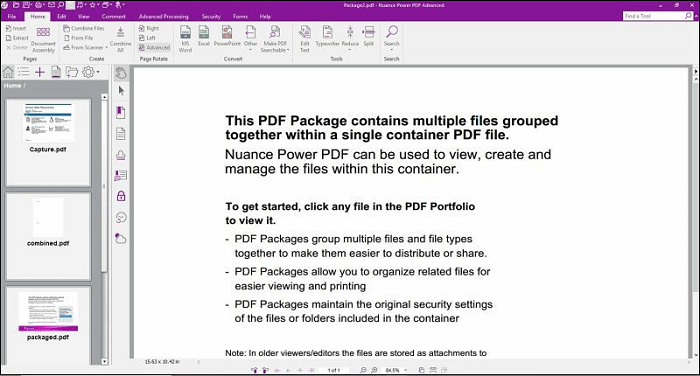 Pros:
Convert PDF files to almost any document or file type
Convert JPG and PNG to PDF
Use cloud connectivity to Google Drive, OneDrive, and Evernote
Restrict sensitive information from documents
Cons:
Advanced and Enterprise versions are expensive
Compatibility: Mac
8. Foxit Reader
Another great free PDF converter that can help you convert your PDF files to Word, Excel, and other file formats is Foxit Reader. This program has been among the best PDF converter for several years now. Not only can you easily turn your PDF files into different formats, but you also have access to important editing tools to modify text properties in your PDF.
Also, Foxit introduced one of the first JavaScript security options for your PDF files. Overall, it is a well-rounded PDF editor and converter definitely worth a try in macOS.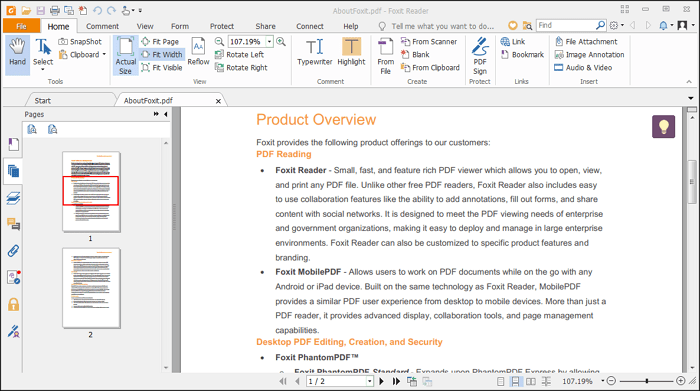 Pros:
Free conversion of PDF files to Word, Excel, and several other file formats
OCR technology to convert scanned text into editable text
Advanced formatting and editing tools for text and pages
Cons:
Complicated user-interface
Compatibility: Mac
9. PDF Expert
PDF Expert is the best free PDF converter available for Mac. Even though it is not a very advanced PDF editor, it has earned a reputation for its conversion software.
It can easily and quickly convert any PDF to any text or image format as you seem fit. With this program, you have access to basic text editing features like highlight and add annotations and notes to documents. Also, it is ideal for syncing PDF files with Dropbox and other cloud storage services. You can even save files to your computer's hard drive.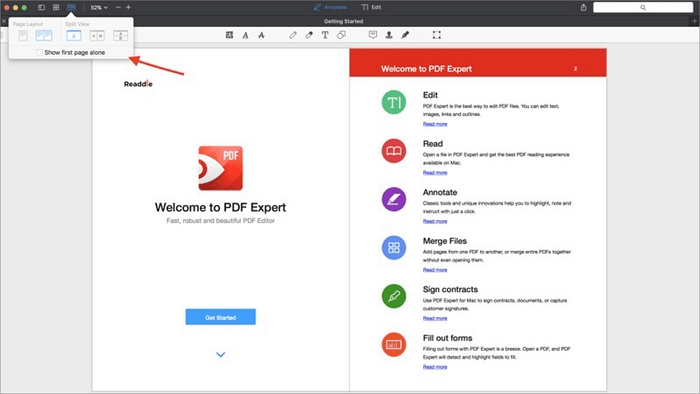 Pros:
Edit text, images, and links properties
Compress and combine PDF files
Fill out PDF forms
Cons:
PDF conversion may have errors
Compatibility: Mac
Conclusion
In the business industry, PDF has become the de-facto standard document format. Many users, however, still prefer to modify their documents using more familiar tools, which might be problematic with PDFs. As a result, many users are looking for the best free PDF converter for Windows and Mac to convert PDF files. Try EaseUS PDF Editor to access a wide variety of advanced converting features to create editable text formats from any PDF.