[2021] How to Convert PDF to Visio in 3 Simple Ways

Vanessa Chiang updated on May 13, 2021 to PDF Converter Tutorials
Microsoft Visio is an app that was designed to help IT professionals create diagrams and drawings of their networks and IT systems. The app comes with a library of templates that can create professional-looking network diagrams and data flow diagrams that you can use to manage projects.
However, the application doesn't support PDF, while many network diagrams are sent in PDF format. If you want to open a PDF in Visio, you have to convert it into a format that Visio supports. This post will guide you to convert PDF to Visio in multiple ways.
To better preserve the contents of a PDF file, it's a good choice to convert the PDF into an image format. With this method, you can easily view the contents of PDF in Microsoft Visio. 
EaseUS PDF Editor, one of the best PDF converter tools on Windows, is suitable for you to convert the PDF to BMP, the image format that Visio supports. All you need to do is open the PDF in the converting tool and click several buttons.
Before the conversion, you can add some necessary contents to the PDF without much effort. For example, you can add page numbers to PDF to make it easier to read.
Features:
Create a blank PDF or create PDFs by converting
Add image to PDF to enrich it
Combine multiple PDF files
Before following the tutorial below, you need to install it on your computer. Click on the button to download it for free.
Steps to Convert PDF to the Format that Visio Supports:
Step 1. Launch EaseUS PDF Editor and click on "File" > "Open" to import the PDF file you want to convert.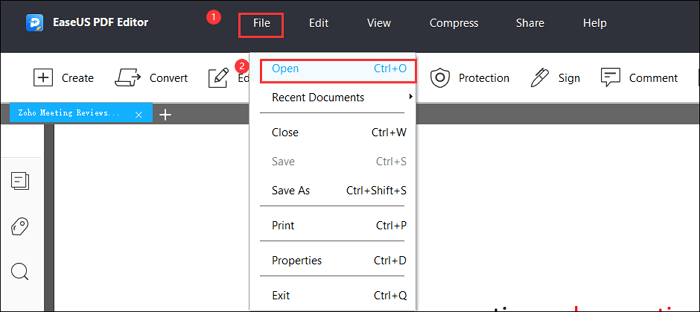 Step 2. Click on the "Convert" button, and select "To Bitmap" from the drop-down menu.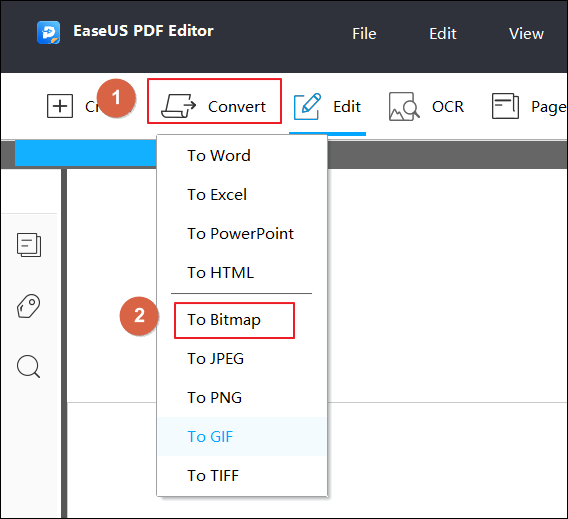 Step 3. Choose the page range of the conversion. You can choose from converting the current page, all the pages, or some specific pages. Then, click on the "Ok" button.
Step 4. A pop-up window will ask you to name the BMP files and select the folder to save the BMPs. The "Settings..." button gives you options to customize the colorspace, resolution, etc. Don't forget to click on "OK" to apply the settings. Finally, click on the "Save" button to start converting.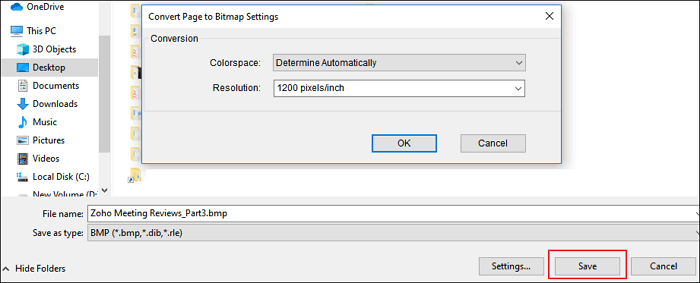 How to Convert PDF to Visio Using Adobe Acrobat
Adobe offers Acrobat Reader DC software which can be your default PDF reader with the option to highlight, add a signature, connect to an online account, organize scans, and collaborate.
The software can be used as a full-fledge suite to satisfy all the PDF needs. The OCR and Scan feature is useful for those who need to scan multiple documents and merge them into one PDF file. Adobe Acrobat can directly connect with the scanner and help with pre-scan edits.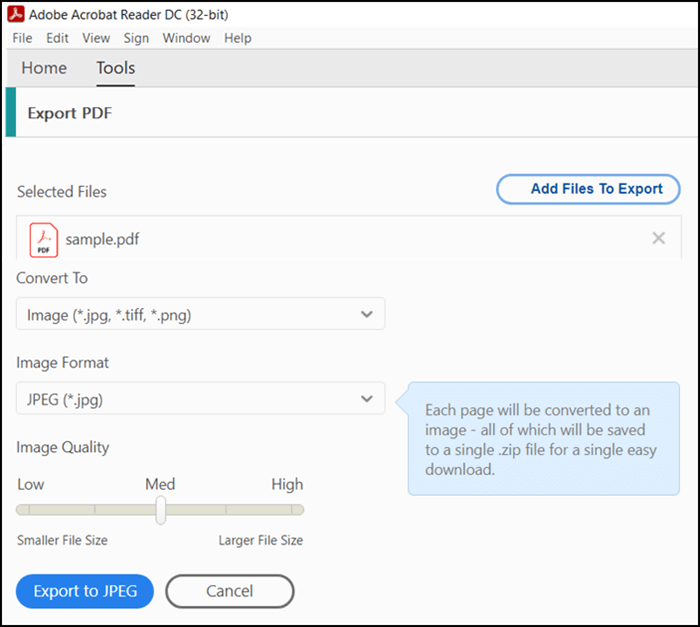 Features:
Open and interact with all types of PDF content
Convert existing documents to PDF files
Add signature, highlight text, and save a copy of the PDF
Save files online, share and collaborate
We know that Visio doesn't support PDF, but it does support JPG, a frequently-used image format. We can use the Adobe Acrobat tool to convert PDF into JPG and then open the Visio image file.
It's worth noting that you will not be able to vectorize anything in the JPG file because of this format's characters.
Steps to Convert PDF to JPG:
Step 1. Open the PDF file in Acrobat Reader DC and make any changes if you wish to. These changes will appear when you export.
Step 2. Next, click on the "Tools" tab and then choose to export.
Step 3. In the export section, choose "Image" from the "Convert To" option, and then select "JPG" from the image format. You can also choose the quality of the output. Please save it to a location from where you can get it back.
How to Convert PDF to Visio Online
If you do not like to use the software, you can always convert the PDF files into Visio files and open them directly without further conversion.
PDFMall PDF to VSD
It is a simple online converter that can take a PDF file and convert it into a VSD file or Visio file. You can choose to use only text from PDF or use OCR. It can also convert document, image, audio, ebook, and font files from one format to another.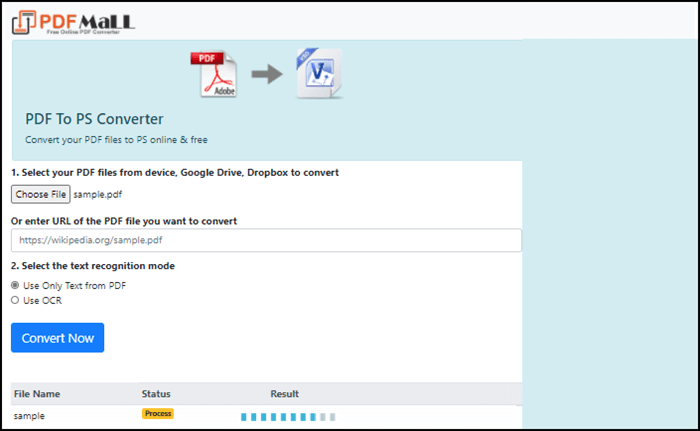 Features:
Use local file upload or online URL
Support both OCR and normal text
Support multiple file uploads
Steps to Convert PDF Online:
Step 1. Open the online converter, select the PDF file using the upload button, or paste an online URL of the PDF file.
Step 2. Choose between OCR or only text. Click on the "Convert Now" button to begin the conversion. You can upload additional files while one is being converted.
Step 3. Once the conversion is complete, you can download the VSD file supported by the Visio application.
Try: https://PDFmall.com/PDF-to-vsd
Zamzar PDF to Visio Converter
Zamzar is an online tool that offers a plethora of converters, PDF to Visio converter. You can add a direct link to upload a file directly to the service and then choose to convert. In addition to that, it's also an online video converter, audio converter, image converter, and document converter.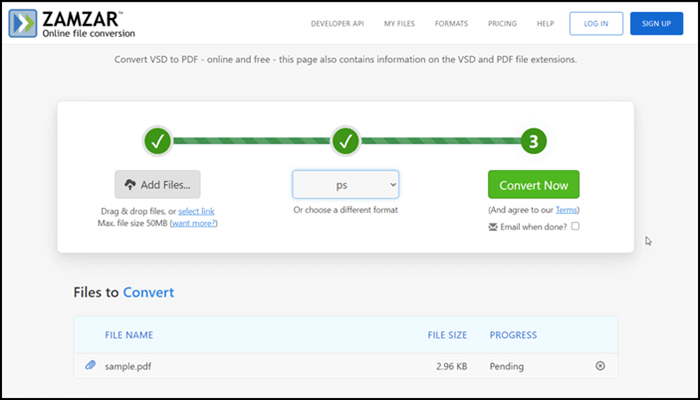 Features:
Support large file conversion
The conversion speed is fast
Store 100 GB of files online
Steps to Convert PDF File Online:
Step 1. Open Zamzar online converter and upload a file or add the URL of the file if you host it on sites like Google Drive or Dropbox.
Step 2. Select PS from the file format list, and click on the "Convert Now" button.
Step 3. Once done, download the file to your computer. And you can open it with Visio now.
Try: https://www.zamzar.com/convert/vsd-to-PDF/
More Tips About Microsoft Visio
Visio is a diagramming tool that enables users to create a variety of different diagrams. It's effortless to learn, and users will find that they can create flow charts, network diagrams, and process maps without much effort.
Visio is ideal for users who need to create documents used by multiple people, as it allows users to share their diagrams with others online easily.
Main Features of Microsoft Visio:
Support co-authoring to create network design together
Connect to a wide range of data sources to draw objects
Support workflows and process improvement ideas
Cross compatibility to import and export diagrams drawn by other tools
Integration with Office 365 and Web app to draw without installing software
Automatically generate ORG charts from data sources
Tips for Using Visio:
Draw your shapes to personalize or brand the concept
Save concepts as stencils to reuse them again
Copying data sources from apps like Excel is as simple as copy and paste
Formats that Visio Supports:
Import: BMP, CDR, DOC, DOCX, DWG, EMZ, ERX, VWI, XLS, and XLSX
Export: DXF, DWG, JPG, PDF, SVGZ
Conclusion
It is always a problem when it comes to dealing with a proprietary format. However, some tools can help. Since many diagrams are sent over PDF, it becomes necessary to open them in Visio.
However, there will always be a chance that you may not be able to edit them or extract them directly. Make sure to use the right set of software to read and extract data from the PDF files.